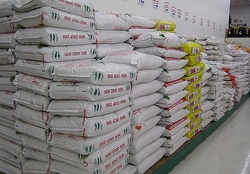 Awoko | 20.01.2012
Agric Ministry receives $1.2bn investment for rice and rubber productions
It was a complete show of an unwavering attempt by the Ministry of Agriculture Forestry and Food Security to improve the agricultural potentials of Sierra Leone, when one of China's biggest Agriculture Investment Companies, the Hainan Co., Ltd for International Economic Corporation, announced that they have approved the sum of one billion, two hundred and thirty-one million, nine hundred and eighty-six thousand and two hundred dollars (US$ 1,231,986,200) for the production of rubber and rice in the country.
"By finance value and land area, this is the biggest investment received by the Ministry in the area of rice and rubber productions, with a share capital of 50 million dollars" noted Sam Sesay, the Minister of Agriculture, Forestry and Food Security.
The Minister reaffirmed that since his ministry is poised to create an enabling environment for development of the private sectors participation in agriculture, the ministry had already entered into a joint venture with the Chinese company, in which they are ready to provide the land (300 acres) on which the company will establish its office, and a 40,000 hectares of land to cultivate large scale plantation in rubber and rice at Mile 91 in the North.
He revealed that from February to March this year, all documentary arrangements would have been made and practical activities would start at full swing.
The Minister in stressing the agricultural potentials, and the development the project would bring in the near future, regarded the project as a trade venture between the government of Sierra Leone and the Chinese government in respect of their bilateral relation that has existed for many years.
The rubber plantation project, the minister noted, will cover 81,000 tons of rubber and 35,000 hectares of rice produced every year, adding that the yearly net profit for rubber production would be in the tune of $138,335, 500 and rice at $ 81, 400 respectively.
Infrastructure wise, the project would facilitate the construction of 500 kilometers of trunk roads, 600 kilometers of feeder roads and other related social facilities during their period of operation.
Revealing job opportunities such the huge project would create, the Chairman of China Hainan Co., Ltd Mr. Zhou Chen said that the venture would bring over 100, 000 job opportunities and reduce the cost of rice.
He said considering the peaceful atmosphere for doing business in the country, the Chinese company which is ranked the 6th in the world for rubber plantation, and with 60 years of existence, they are ready to deliver their utmost best towards improving agriculture in the country to the level of exportation.
He said they have in their company advanced technical expertise that are readily prepared to embark on feasibility studies to determine the viability of the location for the multi-million project.
By Poindexter Sama