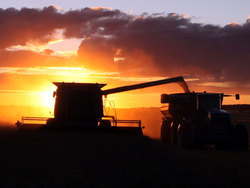 Targetting a "yield" of 3% to 4%. (John Lucas/Postmedia News Files)
Financial Post | Jan 19, 2012
ETF may stand for exchange-traded farmland
Peter Koven
Canada could soon get its first exchange-traded farmland management stock.
A company called Bonnefield Canadian Farmland Corp. has
applied for an initial public offering
on the Toronto Stock Exchange to try to capitalize on the growing farmland-management industry, a business that is very big globally but only beginning to take off in Canada. The company hopes to raise as much as $100-million in the IPO.
Bonnefield's plan is to act like a real-estate investment trust that owns farmland instead of office towers or shopping malls. The company acquires farmland and then leases it back to farmers. It wants to find aggressive farmers looking to grow, do sale-leaseback deals on the land they own, and help them acquire more land. Lease income is collected and returned to shareholders through dividends, with a targeted yield of 3% to 4%.
A number of similar firms have popped up in Canada in recent years that offer investors exposure to farmland through limited partnerships. But they have not listed on the TSX because public companies cannot own farmland in Saskatchewan or Manitoba. Bonnefield is trying to get around those rules by just owning mortgages on farmland in those provinces.
The farmland management business has been slow to pick up in Canada, partly due to the regulations around farm ownership. But it is a big global business that has attracted tens of billions of dollars of capital. TIAA-CREF, the big U.S. pension fund, owns about US$2-billion of farmland on its own.
According to industry insiders, farmland works for investors because it offers reliable returns and gives investors a way to play the food industry without being so vulnerable to volatile fluctuations in crop prices.
In its prospectus, Bonnefield makes a lot of the same points that other agricultural companies have made: The global population is more than seven billion and growing, and the United Nations estimates that food production needs to increase 70% by 2050 (relative to 2009) in order to keep up.
In terms of farmland specifically, Bonnefield argued that it is recession-resistant, is not correlated with financial assets, and has proven to be an effective hedge against inflation.
"If you're concerned about inflation, farmland is like gold with yield," said Stephen Johnston, head of Agcapita, a Calgary-based farmland fund management firm.
"It's got a lot of interesting qualities. The reason for its growing appeal is that there's something in there for everyone," he said.
Mr. Johnston said the farmland asset class has consistently beaten stock markets over periods of 10 years or longer. According to Bonnefield, Canadian farmland declined in value just seven years out of 60 between 1951 and 2010, while Canadian stocks fell 15 years out of the same period.
Bonnefield also argues that Canadian farmland is relatively cheap compared to the United States, and is also more productive than most other large food-producing nations.
On the other hand, farmland management firms are also vulnerable to the problems faced by farmers themselves, such as inclement weather and crop diseases.
Bonnefield launched back in 2010 with a private fund, which now owns more than 15,000 acres of farmland.