macauhub | 12 January 2012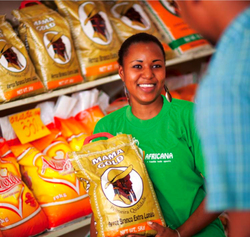 Olam's imported packaged rice is sold under the Mama Gold brand throughout Mozambique.
Maputo, Mozambique, 12 Jan – US$50 million is being invested in Zambézia province in Mozambique to refurbish irrigation systems in several districts and to research rice varieties with a greater yield, according to a report in Mozambican newspaper Notícias.
The newspaper said that the investment underway, which includes construction of a rice processing factory, was mainly intended to increase levels of production to 150,000 tons to ensure food security, supply the market and, as a result, reduce the amount of imports.
Meanwhile, Olam Moçambique plans to introduce industrial rice production, to provide the raw material needed to supply the processing factory in Namacurra, in Mopeia district.
Starting this year Olam Moçambique plans to invest over US$35 million to make use of the agricultural potential of the Mopeia area to produce large amounts of rice on 227 hectares of land to supply the domestic market.
Notícias also reported that the investment would be carried out by the government in partnership with Japan and Vietnam to increase production and yield, as well as producing quality seed.