Kenana Sugar Factory | 10 Jul 2011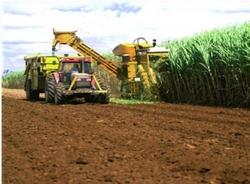 Kenana Sugar Company is partly owned by Kuwait Investment Authority and the government of Saudi Arabia. (photo : Global Arab Network)
The MAHASEEL Agriculture Investment Fund will be managed by Beltone Agriculture, a joint venture between Beltone and Kenana. Hazem Barakat, Chief Executive Officer of Beltone Private Equity, said that Beltone would provide investment management, corporate finance and strategy capabilities for the fund, which will focus on investments in agriculture; the production and processing of crops and livestock in Sudan, as well as opportunities in food processing and agri-related businesses in Egypt.

Mohamed El Mardi, Managing Director of Kenana, said, "Kenana will support the venture through its extensive technical know-how and operational expertise in the agricultural sector and deep agricultural experience in Sudan", He also added that 'agriculture plays a vital role in the development of Sudan and Egypt and is a major source of income for both economies'.

MAHASEEL aims to provide direct exposure to the agriculture and agribusiness sector by offering an investment mandate that addresses the region's food concerns and covers green-field projects and private equity opportunities in the agriculture sector, agribusiness and agri-related industries and services in Sudan and Egypt.

Cairo-based Beltone Financial was founded in 2002. It has offices in New York, Saudi Arabia, Qatar, the United Arab Emirates and Libya, serving both institutions and high-net-worth investors. Beltone Financial comprises divisions for asset management (AUM EGP 24 billion [$4.34 billion]), Investment Banking (EGP 52 billion [$9.4 billion] in transactions), private equity (AUM EGP 2.1 billion [379.8 million]), brokerage (ranked #1 in trading 2009 Egypt) and research.