Arab News | 26 December 2011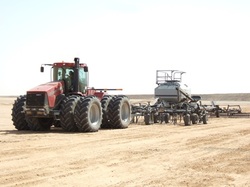 The Al-Rajhi International Investment Company is already involved in a controversial 50,000 ha land deal in Mauritania that has drawn
local protests
. The company is also pursuing a 40,000 ha project in Egypt to grow wheat. (Photo: Case tractor at the
Al Rajhi wheat farm
in Egypt)
JEDDAH: A memorandum of understanding aiming at evaluating $1 billion aquaculture investment opportunities in Mauritania was signed here on Saturday.
The National Prawn Company (NPC) and the Islamic Corporation for the Development of the Private Sector (ICD) signed the deal to provide advisory services including an alliance between the NPC and Al-Rajhi International Investment Company (RAII) and the ICD.
ICD is the private sector member of the IDB Group.
It was signed by ICD CEO and General Manager Khaled Al-Aboodi and NPC Managing Director Ahmad R. Al-Balla, on behalf of NPC and RAII alliance.
The deal was signed at the headquarters of the Islamic Development Bank Group (IDB) in Jeddah.
The memo stipulates that the ICD will provide comprehensive consulting, financial and legal services including the evaluation of the regulatory and legal environment in Mauritania as well as facilitating investment mechanism and carrying out feasibility studies and financial structure of projects.
These studies would help in developing a comprehensive legal and investment framework that would organize the partnership with the Mauritanian government and reinforce the resources mobilization necessary for starting the company's projects on the ground.
Speaking after the signing ceremony, Al-Aboodi said the deal is important in terms of its expected developmental and financial value for the projects to be evaluated as the total investment is estimated at $1 billion. These projects will focus on strategic growth sectors in Mauritania, he said.
He added: "The agreement represents an important element in the corporation's strategy as a catalyst for private sector development, as NPC and RAII constitute one of the most important aquaculture industry partnerships, that are operating through a successful strategy, which enables it to stand as a milestone in its field."
Al-Balla, in his turn, said: "We stand today at the front of a bright future in our field, and this agreement with the ICD is considered as the beginning of international investment in aquaculture, where we have, after our success at the local level, the ability, the experience and the necessary elements for launching other successful initiatives in the Islamic republic of Mauritania."
Al-Balla said NPC has adopted a scientific approach in expanding its investments and modernizing its aquaculture technology through specialized research, studies and tests achieved with the assistance of experts enjoying international experience, namely "the Islamic Corporation for the Development of the Private Sector."
Al-Balla said RAII is a leading company in terms of expertise in the development and cultivation of land, infrastructure and the forage industry, as well as livestock breeding industry.
© Arab News 2011