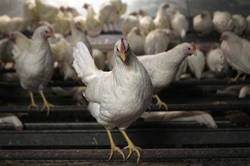 The Foodomonte takeover "forms another step in Almarai's strategy of securing its supply of farm feed"
Agrimoney | 21.12.2011
Saudis buy Argentine farms on eve of land curbs
Saudi Arabia, seeking foreign farmland to boost its food security, has bought 12,000 hectares of Argentine farmland just as the South American country is attempting to limit foreign farm ownership.
Almarai, the biggest food producer in the water-short Middle Eastern kingdom, said it had paid 312m riyals ($83m) for 100% of Foodomonte, which owns and operates three farms in Argentina producing corn and soybeans.
The deal "is in line with the direction of the Saudi government towards securing supplies and conserving local resources", Almarai said, a reference to the kingdom's drive to seek alternative food sources after cutting back on its own production to save water.
Saudi Arabia three years ago abandoned, in favour of imports, a 30-year-old programme of self-sufficiency in wheat which was depleting valuable water reserves.
The kingdom, whose demand for food is being swollen by a population growing at 2% a year, is expected to import 2.0m tonnes of wheat in 2011-12, up from 75,000 tonnes four years ago.
Need for feed
The deal also "forms part of Almarai's continuous efforts to improve our supply chain and ensure access to the highest quality feed", the group said.
While Alamarai is best known as a dairy group, and is the Persian Gulf's biggest in the sector, it also has large poultry operations, in which it in June announced a 4bn riyal investment programme.
The Foodomonte takeover "forms another step in Almarai's strategy of securing its supply of farm feed", the group said.
Foodomonte is backed by Agro Terra, a London-based private equity group from which Agrimoney.com is awaiting a statement.
Land laws
The deal comes as Argentina is discussing long-awaited laws to curb land ownership by foreigners, in response to a controversial wave of interest, notably from food importing countries such as China, Saudi Arabia and South Korea, in buying farmland abroad.
In some cases, foreign buyers have failed to honour commitments for job creation or local investment, and even left the land fallow hoping to benefit from price appreciation.
Argentina's chamber of deputies last Friday passed, with a huge majority, the so-called "Land law" which will limit foreign owners to 1,000 hectares of land, and cap at 15% of all land the total area owned by foreigners.
However, Luis Basterra, president of Argentina's Agriculture Commission, has said that the law will not be made retrospective, such that land already owned by foreigners is taken away.
Buying spree
Neighbouring Brazil has already introduced its own curbs on foreign land ownership, with limits being considered too in Uruguay, where buyers from abroad accounted for an estimated 83% of land purchases last year, and where an estimated 20-30% of farmland is owned by foreigners.
About 10% of Argentine farmland is foreign owned, the United Nations Food and Agriculture Organization believe.
Almarai shares closed up 3.1% at 99.50 riyals on Wednesday.
The deal is the latest in a string by agribusiness groups, including an agreed bid on Tuesday for Ukraine farm operator Landkom International by peer Alpcot Agro, and with a three-way bidding battle in progress for Norwegian farm equipment group Kverneland.