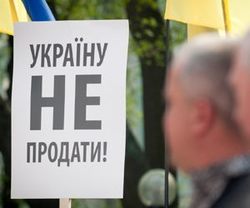 "Ukraine is not for sale" says the placard
Bloomberg | Dec 20, 2011
Ukraine extends ban on sale of farmland through January 2013
By Daryna Krasnolutska
Ukraine's parliament extended a ban on the sale of farmland for a year to January 2013, saying that more time was needed to prepare the market for such sales.
Ukraine's President Viktor Yanukovych wanted the land market to start operating from January 2012.
The bill was backed by 275 lawmakers in the 450-seat legislature in Kiev today.