Business Review | 16 December 2011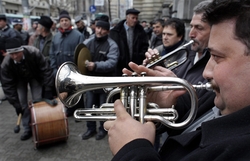 Romanian cattle farmers blow their trumpets in front of Romania's Agriculture Ministry during a protest in Bucharest, Romania, 17 November 2011. Almost half of Romania's 22 million citizens live in rural areas, and agriculture generates up to 70 per cent of income in rural areas, says the World Bank. (Photo: Robert Ghement / EPA)
by Simona Bazavan
Alongside countries like Liberia, Laos, Congo and Sierra Leone, Romania is one of the countries where foreign companies own large areas of farmland, according to a report put together by GRAIN, a non-governmental organization that supports small farmers.
Romania is the European country with the largest share of national farmland owned by foreigners – 7 percent - but Valeriu Tabara, the Romanian Agriculture Minister, has previously announced that foreigners own 709,000 hectares of farmland in Romania, which represents 8.5 percent of the country's total farmland.
According to ministry data, the area of Romanian farmland owned by foreigners has increased by more than 10 percent this year to 709,000 hectares from 635,000 hectares in 2010.
Romania is followed by the Czech Republic with 4 percent and Ukraine where 3 percent of the country's farmland is owned by non-residents. Outside Europe, the same percentage as the one in Romania is reported in Malawi and Tanzania.
Foreign companies own the largest share of national farmland in countries like Liberia (67 percent), Laos (41 percent), Uruguay (26 percent) and Paraguay (25 percent), according to the NGO's data. High shares are also reported in Argentina (10 percent), Sierra Leone (15 percent), Indonesia (8 percent) and Australia (12 percent). At the opposite point there is the USA where only one percent of the farmland is owned by foreign companies.
Land grabbing, the phenomenon of acquiring farmland in foreign countries is referred to in GRAIN's report as the acquisition (lease, concession, outright purchase) by corporations or states of areas of farmland larger than 10,000 ha in another country and on a long term basis (usually between 30 an 99 years) for the production of basic foods which are later exported.
Farming abroad is the new food supply strategy used by import-dependent governments says GRAIN. The phenomenon has grown in the past couple of years in the context of the present food and financial crisis.
Some companies that have acquired farmland outside their countries in 2010 or intend to do so are Mitsui of Japan which took control of Multigrain, which owns over 100,000 ha in Brazil (to produce soybeans for Japan), Hyundai which seeks 10,000 ha to grow soybeans for South Korea and Chinese Chongqing Grain Group which got 100,000 ha in Bahia for USD 300 million to grow soybeans.
According to GRAIN the companies looking to buy land are a mixture of agribusiness firms, industrial groups and, most of all, investment funds while the main governments seeking
Land are the Gulf States, South Korea, China, Japan and the former Libyan regime but also Singapore, India, Malaysia, Mauritius and South Africa.