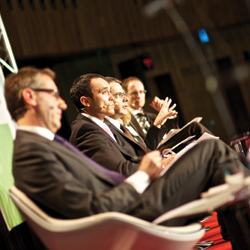 Reuters | Thu Dec 8, 2011
Aquila readies Asia hedge fund, $150 mln agri fund for 2012
By Charmian Kok
SINGAPORE Dec 8 (Reuters) - Germany's Aquila Capital plans to launch an Asia-focused hedge fund and a $150 million agricultural fund in the first half of 2012, as part of a plan to expand in Asia and broaden the range of offerings for its largely European clientele.
"The whole mess in Europe at the moment has increased demand for diversification products for the Asian markets," Aquila founder and chief executive Roman Rosslenbroich told Reuters in an interview.
Aquila, which manages about 3 billion euros ($4.02 billion), opened its first Asian office in Singapore in October.
The firm ranks 32nd among European hedge funds according to the Hedge Fund Journal and Newedge, a large brokerage, and its clients include several European pension funds and private banks.
Aquila is looking to hire a local fund managers to lead the Asian hedge fund strategy, Rosslenbroich said, joining a growing number of Western money managers looking to start operations in the second biggest hedge fund centre of Asia.
Its operations out of Singapore is led by Chum Yong Quah, who earlier worked for Fidelity as head of private banking and Southeast Asia development.
Aquila's close-ended agriculture fund will invest in farmland in New Zealand and Australia, and will only target Asian investors.
Rosslenbroich said investors seeking growth that is not correlated to the main bonds and equity in the wake of Europe's debt crisis should invest in agricultural farmland, which will likely benefit from the world's booming population and limited resources.
"We have 200,000 new people in the world everyday, and most of them are in Asia. All these people need to be fed, lots of people are getting richer, so they want more meat, milk etc. This is a very big demand trend," said Rosslenbroich.
This, coupled with fewer supply of land available for agriculture, will continue to drive returns on investments in farmland, he added.
"The real diversifiers are real asset investments. A cow doesn't read the Wall Street Journal, it will still produce milk. There are long term fundamental trends behind this," he said. ($1 = 0.7468 euros) (Editing by Nishant Kumar and Kevin Lim)