Toronto Star | 3 December 2011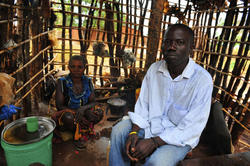 By Rick Westhead
(see Video:
Land rush in Africa
)
KIMAMBILA, TANZANIA—Said Manga scans the red volcanic soil outside his mud-brick home and sees a patch of African plain bursting with life.
The farmer watches plump chickens zigzag between nearby rows of maize, sorghum and wheat swaying in the afternoon breeze. Barely visible in the distance, Maasai tribesmen herd their cattle north towards Kenya.
"Is there a better place than this?" Manga asks, softly, breathing in deeply and rubbing soil in his hands.
Indian industrialist Sai Ramakrishna Karuturi has his eye on this lush scenery, too, but he sees something much different: the potential for large-scale commercial farming.
Karuturi, from the South Indian city of Bangalore, envisions the fields around Kimambila growing cut roses for Canada, lentils for India, tomatoes for the Middle East.
He's hardly the only foreigner with eyes on Africa.
With 60 per cent, or 600 million hectares, of the world's remaining arable, uncultivated land, according to the U.S. consultancy group McKinsey & Co., the continent is once again a coveted landscape.
The 19th century had the Great Scramble for Africa, when developed nations raced for several decades to lay claim to new territories and their riches. This century may yet be known as the Great Selloff of Africa.
After a global food crisis in 2008, prices of grain and other staples tripled and agricultural investment in Africa has swelled. The crisis set off alarms in countries with booming economies but where arable land was increasingly at a premium.
In many of these countries population is growing rapidly — India is forecast to have 1.5 billion people by 2050, making it the world's most populous nation — or a thriving middle class is creating demand for more, better food. Coupled with climate change that has caused either flooding or drought, the quest was on.
In only a few years, companies from India, China, Saudi Arabia and elsewhere have snapped up 227 million hectares of farmland in the world's developing countries, more than three times Canada's 68 million hectares, according to a report by Oxfam this fall, some for as little as $1 per hectare.
Ethiopia, for instance, has long-term leases with Karuturi and others for 1.2 million hectares of land. The famine-prone country currently exports fruits and vegetables worth $60 million per year and flowers worth $160 million.
The United Nations, Oxfam and the U.S.-based Oakland Institute are concerned the long-term leases amount to sweeping "land grabs," forcing African farmers and nomadic tribes from their homes and off their fields. This fall, a UN intergovernmental body failed to adopt international guidelines on land governance. Three-quarters of the guidelines have been agreed upon but rules on large-scale investment in farmland remained a sticking point, said Olivier De Schutter, the special rapporteur on the Right to Food. The committee is to meet again early in the new year.
Rick Rowden, a doctoral candidate and researcher at Jawaharlal Nehru University in New Delhi, says more than 80 Indian companies have invested $2.4 billion into East Africa, agricultural investments that will be used to grow cash crops for the Indian market.
"You ask Indian companies if they want to be known for the colonization of another country and they don't care," he says. "The capitalists in India are not any different from capitalists in other countries. They want to be set free to do what they want without rules or restrictions."
On one hand, foreign investment offers the promise of modernizing the world's least-developed region. Only 7 per cent of farmland in Africa is irrigated, compared to 40 per cent in Asia. Foreign companies promise to share modern farming technologies, introduce new, high-output hybrid crops, and build schools and health clinics. They insist that they only lease land that isn't already being used.
But environmentalists envision a doomsday scenario where foreign investors spend the next 20 years aggressively farming cash crops and leave when groundwater reservoirs dry up and soil is sapped of its nutrients.
"Forget the promises. Companies are plunderers no matter where they come from," said Vandana Shiva, a New Delhi environmentalist. "It's a resource grab."
The trip from Tanzania's capital of Dar es Salaam's deep-water shipping ports to Manga's farmland is a four-hour drive past fields of cassava and cashew plants and tin-roofed churches with names such as "Glory to God Miracles Center."
Everywhere are signs of India's influence: a showroom full of trucks made by Tata, India's leading automaker; branches of Baroda Bank, India's third-largest; and recruitment centres for Indian colleges and universities. Billboards for the Indian mobile phone company Airtel, some with images of the Taj Mahal, dot the countryside.
More vivid reminders of India are on the way.
Earlier this year, Prime Minister Manmohan Singh announced India would provide $5 billion in aid to Africa (India both gives and receives aid). It will also finance the construction of a railway in East Africa and establish an India-Africa virtual university.
When Tanzania was a British colony during the 1950s, blessed with exotic wildlife but starved of development, Manga's father stumbled on the village of Kimambila when he was working as a labourer on a railway. He never left.
Eventually, others arrived, drawn to the rich, red soil, the regular rains and temperate climate that combine to transform seedlings to ready-to-eat maize in only 10 weeks. Village leaders say 1,250 families live in Kimambila.
"It's a simple life," says Manga, 33. The biggest event is when local families host a party to announce that their daughters, typically aged 14 or 15, are ready for marriage.
"It's a great party, the best time we have," Manga says.
The Mangas may be happy but they are far from comfortable. They sleep on dirty foam mattresses and grow enough food to eat but not enough to sell at local markets. They have about 50 chickens and sell one every few months for about 7,000 shillings ($4.40). The money helps to cover the cost of charging their cellphones.
Manga's family can't afford the 200,000-shilling dowry it costs for him to marry, although he has had two children out of wedlock with a neighbour's daughter — infractions that have cost his widowed mother 24,000 shillings.
One afternoon, Elias Mtinda, a food security expert with the antipoverty group ActionAid Tanzania, told Manga and his neighbours that their stretch of land has been targeted by the government to be leased to foreign developers.
In August, during a nine-day fact-finding mission through Tanzania, Uganda and Ethiopia, Karuturi and three dozen other Indian executives visited Morogoro. Karuturi said that his company planned to invest some $2.5 billion in Tanzania, one of the world's poorest countries where an estimated 600,000 children under five have died from malnutrition during the past decade.
"There is huge potential for agriculture in East Africa," Karuturi said. "The region has 120 million hectares of arable land, the same size (amount) of arable land India has."
During the late 1960s , India undertook a huge transformation, cultivating high-yield cereals. Within a few years, the country, prone to famines and dependent on regular shipments of food from America, became self-sufficient.
R.B. Singh, a former assistant director general with the Food and Agriculture Organization of the UN, says as a result India understands Africa.
"There's a lot of overlap with dry, arid conditions and we have the knowledge of how to do it.
"India can say, 'Look, we did it,'" Singh says.
What Singh doesn't say is that India paid a price for its Green Revolution.
Hybrid grains and cereals have drained groundwater levels so that now, in 20 per cent of India, water resources are described as critical or over-exploited. Nutrients have leeched from the soil. Even if companies could amass the thousands of hectares they need for commercial farming — and with the average landholding in India about two hectares it would be difficult — it's a wonder where they would find quality soil with a dependable water supply.
India's trade with Africa was $45 billion in 2010. And while that's up sharply from $11 billion in 2006, it still trails China's $119 billion worth of trade with Africa, the country with a 20-year headstart in Africa.
It has built highways and railways, bridges and airports and has been savvy at winning African friends through so-called soft power.
"India has only recently realized the potential of Africa," says Dr. Ashok Gulati, a former director with the International Food Policy Institute.
Despite India's cutting-edge high-tech companies and an ambitious space program, at least 800 million Indians struggle every day to put food on their plates. Nearly half of all children under 5 are malnourished and almost 60 per cent of girls are anemic.
"This elephant will eat more and more," he said.
Manga sits in a plastic green lawn chair and rubs his close-cropped black hair, digesting the news about Kimambali's future.
"Can you tell me what will happen to us?" he asks.
Manga may find some clues in nearby Ethiopia.
Five years ago, Karuturi arrived in the Ethiopian capital Addis Ababa with plans for a small floriculture operation on 10 hectares to ship cut flowers to Europe and the Middle East.
But in 2008, everything changed. As developed countries set goals for adopting biofuel, investors began committing millions of hectares of farmland to crops like jatropha, a hardy plant that can produce biodiesel. Less land was allocated to growing food. Countries, including India, struggled to cope with shortages — climate change was also blamed — and prices spiked.
Panic spread. At least 28 cities such as Cairo, Dhaka and Port au Prince were battered by rioters.
Karuturi realized the huge opportunity growing cereals and other staples.
"Food is the need and Africa has the largest chunk of arable land that's available," says Birinder Singh, Karuturi's executive director.
Even before the food riots, the company had a toehold in Ethiopia, a nation with 35 million hectares of arable land. What's more, the Ethiopian government was pro-foreign investment, maintaining only 15 per cent of its farmland is used.
"There is no land grab and there will be no land grab," Ethiopian Prime Minister Meles Zenawi told executives last year. "Indian companies should not be constrained by this loose talk. We have 3 million hectares of unutilized land . . . This land should be developed."
Karuturi secured lease agreements to farm 300,000 hectares in Ethiopia.
According to Karuturi's leases with the Ethiopian government, copies of which were obtained by the Star, the land is free for six years. After that, Karuturi must pay $1.19 per hectare per year. Farmland in India costs 10 times as much. The company pays no import duties on farming equipment and no export tariffs on its exported produce shipped elsewhere.
Karuturi also has the "right" to provide health clinics and schools, but is not obliged to build them. It's also possible the company could limit access to these services to its own workers.
As Rowden, the New Delhi-based researcher, notes, the contracts specify Karuturi must submit environmental impact assessments to the government, but there's no requirement they be conducted by an independent company.
"It's a joke," says Tarikua Getachew, a law professor at the University of Addis Ababa. "The government has an environmental regulation but it's only there to please the European donors, who fund 30 per cent of our budget. The country's building three huge dams and guess who's doing the environmental impact assessment? The same Italian company that's building the dams."
Activists say Karuturi's investment is already a blow to locals.
The company is growing food for export on land that once was used to grow teff, Ethiopia's staple grain. With less land dedicated to it, the price of teff has climbed. In June, the wholesale price was 50 cents per kilogram, Rowden says. In 2000, it sold for 13 cents.
In his report, "India's Role in the New Global Farmland Grab," Rowden wrote that antipoverty activists have discovered 300,000 families in Ethiopia could be uprooted by Karuturi projects. Of those, 20,000 may get jobs on the new farms.
In the southern Ethiopian village of Bako, locals told Italian antipoverty researchers that Karuturi refuses to allow locals to use crop residue from its farms to feed their livestock.
The researchers also allege the company is indirectly forcing locals to abandon their homes. The company has dug a deep ditch along its farm for drainage and locals now can't get water for their livestock.
"That's maybe the biggest problem with these contracts — that they don't control the use of water," says Jayanti Gosh, a professor with the Economics Research Foundation in New Delhi. "They have complete unfettered access. Whatever they want to use they can. . . . No one should think companies like Karuturi are in Africa to help feed starving Africans."
In Karuturi's office in Addis Ababa, Singh was busy phoning and emailing Indian and Dutch companies about building dikes and drains for its fields in the village of Gambella. In early October, 12,000 hectares of maize were lost in flash flooding. Indian newspapers reported the setback cost the company $15 million.
The floods help to explain, Singh says, why Karuturi isn't paying more for its leases.
"The lands here are difficult to tame," Singh says. "To break their virginity, you have to deal with weeds and water shortages and access issues."
The land his company is developing is remote, he says, and there are few roads connecting it to transport routes. Each bore well, for instance, can supply water for about five hectares, an area about the size of five football fields. So for a 100,000-hectare plot of land, the company needs 20,000 wells.
"There's no electricity, so we have to figure out how to get diesel, clean diesel with no dust in it, to 20,000 locations," Singh says. "It's not easy, you see."
Even more difficult for Karuturi is navigating the flurry of charges related to displacing local villages.
The U.S.-based Oakland Institute wrote in June that a group of Ethiopian villagers who live near the Gambella National Park are to be relocated in 2012 to make way for new Karuturi fields. The institute reported soldiers have already been deployed to the area.
While its contract allows Karuturi the right to have locals removed by force if they are impeding their projects, the company told the Indian magazine Outlook that the soldiers had nothing to do with them, but were instead there to deal with neighbouring South Sudan and cross-border cattle disputes.
Singh insists Karuturi has not left anyone homeless.
"We are building houses. We are not employing children, we need more people to work our farms," Singh says.
But ActionAid's Mtinda doesn't buy it. He says there are reports of sprawling commercial farms destroying the livelihoods of the nomadic Maasai herders, who have shepherded livestock across the African plains for centuries. .
Singh insists Karuturi wants to make life better for the Maasai.
"We have housing for them, too," Singh says. "It's safer and it's better than what they have now."
In Uganda in April, a mob killed an Indian man and vandalized a temple while protesting the decision by India's Mehta Group to cut down a rainforest to make more room for its sugarcane crop.
Then there were riots throughout Madagascar after the government agreed to a deal that would have given control of 1.3 million hectares to South Korea's Daewoo, nearly half the country's arable land.
The Tanzanian village of Kiru Six is about three hours' drive south of Mount Kilimanjaro. In late January, tensions erupted on a sugar plantation that belonged to several Indian investors.
Early one evening, itinerant workers set fire to the crops and made their way to the farmhouse.
"I didn't see them but I heard them and they were so angry," says Idi Salim, a guard at the plantation. "I ran away before they got here."
Salim is paid $1.25 per day to guard what remains of the plantation. Three months ago, locals cleared the charred remains of the sugar and planted a new crop. Several said they would keep the proceeds themselves.
"This is what happens when you come in and take ancestral land," grunts Paolo Andrea, a local farmer in Kiru Six. "You don't just come in and grab land. It doesn't matter who says you can."
Newspaper reports say two Indians were injured during the attacks, although Andrea says one was actually killed with machetes. A local police official declined to comment.
"I don't know when they will come back," Salim says of his employers.
Few in Tanzania or Ethiopia can explain why their governments are parting with so much valuable farmland for such bargain-bin prices.
Getachew, the University of Addis Ababa professor, says 27 per cent of Ethiopia's annual GDP goes to pay down debt. Foreign lenders have turned off the tap on any further money.
"They've promised big public works spending, like these dams, but they have no other way to pay for them other than by selling off our land," Getachew says. "You won't find one single Ethiopian who thinks this is a good thing. We've had three revolutions here because of land ownership issues. It's sacred. People do not want to see this going to foreigners."
In Dar es Salaam, ActionAid's Aida Kiangi says Tanzania's sell-off is steeped in corruption.
"There are many envelopes changing hands," she says, but it can be hard to prove and harder still to publicize.
Last year, for example, the Extractive Industries Transparency Initiative released a report on Tanzania's mining sector. The initiative, started by the British government with support from the World Bank, is a coalition of governments, civil society groups, and companies that sets standards for transparency in the oil, gas and mining sectors.
Mining companies, the report said, provided royalties worth $84.4 million to the Tanzanian government in 2009. The government, however, had only reported receiving $48.3 million.
"That was page 20 news in the few papers it did make it into," Kiangi says.
There are other ways to exert pressure on companies and the government.
With about 1.6 million British pounds in funding from the British and Danish governments, ActionAid and five other civil society organizations are starting a land-monitoring registry. Local villagers will be encouraged to send an SMS message whenever they see something unusual. It might be government officials surveying land, or it could be an influx of strangers into a village.
"We want to know about anything that looks out of place," Kiangi says. "The big problem we have here is there's no transparency in government. We still have no idea how many deals there are for land with foreign companies. But if we knew about them as they're still unfolding, we could go to key contacts in government and find out about the deals before they're done and take it from there."
It's a tall order to think advocacy groups can influence public policy, but Kiangi says it's possible.
"We found out this way about two new mines under development by Canada's Barrick Gold here," she says. "We weren't able to do anything about the terms of those agreements this time, but maybe next time we can."
It's anyone's guess whether that kind of system would make a difference in Kimambila.
This is the sort of small community where it's impossible for a newcomer to go unnoticed.
But Kimambila is also a place, several locals concede, where residents live in fear of authority. What if someone in a uniform shows up and says they need to move?
"We'll start walking," Manga says.
What chance does he have against companies eyeing millions in revenue and a government aiming for its own payday?