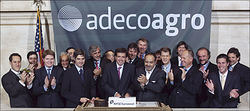 Adecoagro press release | 1.12.2011
Adecoagro captures gains from land transformation
LUXEMBOURG, Dec. 1, 2011 -- /PRNewswire/ -- Adecoagro S.A. , one of the leading agricultural companies in South America, announced today that on November 30, 2011, it completed the sale of "La Alegria" farm, located in General Villegas, province of Buenos Aires, Argentina, for a total price of $13.7 million. The selling price of this farm was 23.0% over Cushman & Wakefield's independent appraisal dated September 2011 of $11.2 million.
La Alegria is a 2,438 hectare farm purchased by Adecoagro in 2007 for a total of $5.9 million or $2,420 per hectare. The farm was used for cattle grazing by the former owner. Following the initial acquisition, Adecoagro applied its sustainable production model to La Alegria to transform a total of 1,948 hectares for the production of soybean, corn and wheat. After four years of enhancing the productivity of the soil by applying no-till farming, crop rotation, balanced fertilization and other best practices, the farm was sold for $13.7 million, equivalent to $5,623 per hectare, obtaining an internal rate of return of 23.2%. This transaction will generate approximately $8.9 million of operating profit for the fourth quarter of 2011.
During the last six years, Adecoagro has been able to capitalize gains of over $103.6 million by strategically selling at least one of its fully mature farms per year. Monetizing a portion of its land transformation gains each year allows Adecoagro to redeploy its capital efficiently and continue expanding its operations by acquiring land with high transformation potential.
Adecoagro believes that the consistent development and sale of farms like La Alegria evidences Adecoagro's ability to continue generating shareholder value through its land transformation activities and sustainable production model.