Vientiane Times | 14 November 2011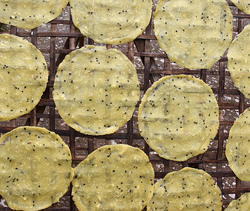 Cassava crackers, Luang Prabang, Laos (Photo:
detengase
)
The Lao-Indochina Group Public Company will soon be listed on the Lao Securities Exchange (LSX) and has begun private placements (pre-IPO) with strategic partners.
Mr Sengmaly Sengvatthana and Mr Gustaf Godenhielm shake hands after the signing.
On Friday the company signed two agreements with strategic partners for the sale of shares, with Lao-Indochina expected to launch an initial public offering (IPO) early next year.
The first signing was between the Thai Biogas Energy Company (TBEC) and Lao-Indochina Group Public Company by Lao-Indochina CEO Mr Sengmaly Sengvatthana and TBEC Director General Mr Gustaf Godenhielm. Thai Biogas signed to buy 3 percent of shares in Lao-Indochina Group Public Company.
The other contract was signed by the Director General of Nanning Fei Luo Shi, Ms Liang Xue, for 2 percent of the company's shares.
During the signing ceremony, Minister of Industry and Commerce Dr Nam Vinhaket said "Lao-Indochina has contributed significantly to the Lao economy and has created many jobs. We highly appreciate the company's efforts."
"This event is proof of the company's success and I believe it will lead the company in the right direction to compete internationally."
"As the first private company to list on the Lao Securities Exchange, I believe Lao-Indochina is setting a good example for other private companies to improve themselves and do the same."
Mr Sengmaly said Lao-Indochina has been preparing to list on the stock market for the past year.
"Today is believed to be a lucky day as the date is 11.11.11, and we are now ready to join the Lao Securities Exchange as we have met all the criteria defined by the Lao Securities Exchange Commission."
"We have had three continuous years of profit and we have been audited by a trusted law firm to ensure transparency."
Mr Sengmaly said Lao-Indochina was listing on the stock exchange because it needs to generate capital for business expansion, the demand for cassava products is high, and also to demonstrate the company's transparency.
"We have a high demand from China for cassava products and we're not able to supply enough to meet demand."
"We have five business partners in China who buy our products but our supply doesn't meet their demand. Our cassava products are of good quality and satisfy our Chinese customers," Mr Sengmaly said.
"Some 90 percent of our products are exported, mainly to China, and the rest are sold in Laos. We are competitive because of our low prices and high quality."
To remain competitive, the company keeps production costs down by not using chemical fertilisers. "The soil in Laos is already a natural fertiliser," Mr Sengmaly said.
"After three years of farming cassava, we have improved soil quality by growing beans, which enhances the soil and also brings in more money for local people."
"We're currently selling our product for 600,000 kip per tonne."
Farmers employed by Lao Indochina grow cassava on about 7,700 hectares of land in three provinces. About 2,600 families grow the crop on their own land in 173 villages of 14 districts.
The company's processing fa ctory can produce 320 tonnes of tapioca per day, which can be increased to 380 to 400 tonnes per day. The factory processes 1,000 to 1,200 tonnes of cassava each day.
Mr Sengmaly said "To meet the high demand, we are planning to build a new factory in Borikhamxay province, with a capacity of 450 tonnes per day."
The company started out in 2003 as Lao-Indochina Air Service, offering
domestic and international flights. In 2004, the company branched out
into imports and exports. After realising the high demand in China for
tapioca, where about 12 million tonnes is needed annually, the company
began growing cassava, which is now the main focus of its business.
In 2008, the tapioca factory opened with total registered capital of US
$5.5 million. At present, the company's total registered capital is
100 billion kip, or US$12.5 million.