Communiqué de presse de FLGI | 28 novembre 2011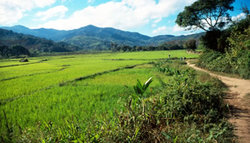 L'entreprise américaine dit que la terre et ses ressources leur offrent une excellente opportunité de nourrir le Mali, puis ses voisins
BAMAKO, Mali, 28 novembre 2011 /PRNewswire via COMTEX/ -- Le PDG de Farm Lands of Guinea, Inc., Mark Keegan, et le directeur Cherif Haidara viennent de faire un voyage d'une semaine durant laquelle ils ont traversé la République du Mali. Ils ont rencontré le ministre de l'Agriculture et le directeur de l'Office du Niger et examiné des parcelles de terrain au coeur d'une zone de 1,2 millions d'hectares irriguée par le barrage sur le fleuve Niger.
« Nous avons décidé de faire une demande pour obtenir 10 000 hectares pour y faire pousser du soja, du maïs, du riz et du blé, » a indiqué M. Keegan. « Les terres gérées par l'Office du Niger constituent une extraordinaire opportunité pour exploiter les ressources naturelles de la région afin de nourrir d'abord la République du Mali, et ensuite ses voisins, » a conclu M. Keegan.

La République du Mali est une démocratie. Le pays est principalement aride et s'étend jusqu'au Sahara. « La superficie des terres est extraordinaire et cela représente un potentiel énorme pour l'agriculture à grande échelle, » a dit M. Keegan. « Le pays est bien gouverné et tout à fait clair dans ses intentions d'attirer les investisseurs étrangers pour aider au développement, » a t-il fait remarquer. Le Mali est relié par chemin de fer au port de Dakar sur l'Atlantique, capitale du pays voisin, le Sénégal.
----
Safe Harbor Statement under the Private Securities Litigation Reform Act of 1995



This press release contains forward-looking statements made under the "safe harbor" provisions of the U.S. Private Securities Litigation Reform Act of 1995. Forward looking statements are based upon the current plans, estimates and projections of Resource Acquisition's management and are subject to risks and uncertainties, which could cause actual results to differ from the forward looking statements.

Such statements include, among others, those concerning market and industry segment growth and demand and acceptance of new and existing products; any projections of sales, earnings, revenue, margins or other financial items; any statements of the plans, strategies and objectives of management for future operations; any statements regarding future economic conditions or performance; uncertainties related to conducting business in Guinea, as well as all assumptions, expectations, predictions, intentions or beliefs about future events.

Therefore, you should not place undue reliance on these forward-looking statements. The following factors, among others, could cause actual results to differ from those set forth in the forward-looking statements: business conditions in Guinea, general economic conditions; geopolitical events and regulatory changes, availability of capital, the Company's ability to maintain its competitive position and dependence on key management.

This press release does not constitute an offer to sell or the solicitation of an offer to buy any security and shall not constitute an offer, solicitation or sale of any securities in any jurisdiction in which such offer, solicitation or sale would be unlawful prior to registration or qualification under the securities laws of such jurisdiction.

CONTACTS:


Michael Barton, CFO Farm Lands of Guinea, Inc.
+44 1257 480597
http://www.farmlandsofguinea.com
Dan McClory, Managing Director Hunter Wise Financial Group
+1 949 732 4102
[email protected]