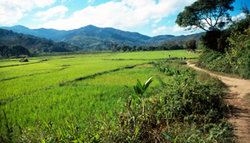 The US company says the land and its resources offer them a great opportunity to feed Mali and then its neighbours
FLGI press release | Nov. 28, 2011
Farm Lands of Guinea Directors complete visit to Republic of Mali; 10,000 hectares selected with Minister of Agriculture
BAMAKO, Mali, Nov. 28, 2011 /PRNewswire via COMTEX/ -- Farm Lands of Guinea, Inc. CEO Mark Keegan and Director Cherif Haidara recently completed a week-long trip through the Republic of Mali, where they held meetings with the Minister of Agriculture and the Director of The Office of the Niger, inspecting parcels of land within a 1.2 million hectare area irrigated by the barrage across the Niger River.
"We have decided to proceed with an application for 10,000 hectares on which to grow soybeans, maize, rice and wheat," said Mr. Keegan. "The land managed by the Office of The Niger offers an exceptional opportunity to use the region's natural resources to feed first the Republic of Mali, and subsequently its neighbors," Keegan concluded.
The Republic of Mali is a democracy. The country is largely arid and stretches to The Sahara. "It has this extraordinary area of land which offers enormous potential for large scale agriculture," said Keegan. "The country is well managed and is very clear in its intention to attract foreign investment to assist in its development," he observed. Mali is connected by rail to the Atlantic port of Dakar in neighboring Senegal.
Safe Harbor Statement under the Private Securities Litigation Reform Act of 1995

This press release contains forward-looking statements made under the "safe harbor" provisions of the U.S. Private Securities Litigation Reform Act of 1995. Forward looking statements are based upon the current plans, estimates and projections of Resource Acquisition's management and are subject to risks and uncertainties, which could cause actual results to differ from the forward looking statements.

Such statements include, among others, those concerning market and industry segment growth and demand and acceptance of new and existing products; any projections of sales, earnings, revenue, margins or other financial items; any statements of the plans, strategies and objectives of management for future operations; any statements regarding future economic conditions or performance; uncertainties related to conducting business in Guinea, as well as all assumptions, expectations, predictions, intentions or beliefs about future events.

Therefore, you should not place undue reliance on these forward-looking statements. The following factors, among others, could cause actual results to differ from those set forth in the forward-looking statements: business conditions in Guinea, general economic conditions; geopolitical events and regulatory changes, availability of capital, the Company's ability to maintain its competitive position and dependence on key management.

This press release does not constitute an offer to sell or the solicitation of an offer to buy any security and shall not constitute an offer, solicitation or sale of any securities in any jurisdiction in which such offer, solicitation or sale would be unlawful prior to registration or qualification under the securities laws of such jurisdiction.
CONTACTS:
Michael Barton, CFOFarm Lands of Guinea, Inc.+44 1257 480597
http://www.farmlandsofguinea.com
Dan McClory, Managing DirectorHunter Wise Financial Group+1 949 732
[email protected]
SOURCE Farm Lands of Guinea, Inc.