PRNewswire | 17 November 2011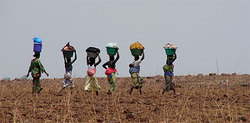 Photo: Jean-Luc Lopez
LONDON, Nov. 17, 2011 /PRNewswire via COMTEX/ -- Farm Lands of Guinea, Inc., which controls a quarter of a million acres of underutilized West African agricultural land, has been approached by two Pan African banking groups, seeking to partner and support them in the development of their farm land in Central Guinea.
"The Board has evaluated taking on debt in addition to equity in order to carry out the development of both the model farms at N'Dema and Konindou, as well as the option land at Saraya, and is confident of being able to negotiate terms which minimize risk," said FLGI CEO Mark Keegan.
The Company is seeking investment insurance and a Broker of Record will be appointed from a short list to arrange the underwriting. "We expect to be supplied machinery from Brazil, under an Export Credit Guarantee Program, which is currently under negotiation by Wellstone Partners of London," Mr. Keegan continued.
About FLGI
FLGI through its 90%-owned subsidiary, Land & Resources (Guinea) SA ("Land & Resources") is a development- stage agricultural company in the Republic of Guinea ("Guinea"). It intends to engage in acquiring and consolidating farm land and operations in Guinea and rehabilitating them back into production using modern agricultural techniques and practices. Land & Resources currently plans to develop 8,815 hectares in the villages of N'Dema and Konindou to grow maize and soybeans in rotation as a pilot scheme for the development of 98,400 hectares lying to the south and east of Saraya.
Pursuant to the Contract for a Program of Agricultural Development in Guinea dated September 16, 2010, the Ministry of Agriculture of Guinea ("MAG") agreed to grant to Land & Resources 99-year leases over two parcels of land in the villages of N'Dema and Konindou of 5,340 and 3,475 hectares respectively to be developed as agricultural land.
On the same date, Land & Resources and MAG entered into an Option Agreement pursuant to which Land & Resources was granted an option to assume a lease of approximately 98,400 hectares (243,151 acres) located in the village of Saraya in Guinea.
On October 25, 2010 Land & Resources signed a Protocol d'Accord with MAG under which the Company undertook obligations to survey and map additional underutilized land in Guinea estimated to be up to 1.5 million hectares (3.7 million acres) of combined area and prepare it for third party development under 99-year leases.
FLGI proposes to develop the leased land to grow in rotation, maize and soybeans. Given the rainfall, the temperature profile and the nature of the soil, it is anticipated that the land when developed will produce about 4 tons of soybeans per hectare. The rotation will be one year of maize followed by two years of Soya. FLGI's program represents a major breakthrough for the democratically-elected government of the Republic of Guinea in their priority plans for food self-sufficiency. The completion of FLGI's agricultural activities will result in a multi-million dollar inward investment into the Republic of Guinea.