IRIN | 15 November 2011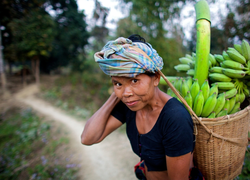 A banana farmer in Bangladesh (Photo: HKI/Ian Taylor)
DHAKA, 15 November 2011 (IRIN) - The government of Bangladesh is looking near and far – from Ukraine to South Sudan – to bolster food security at home, according to the Ministry of Food and Disaster Management.
"Whether from the public sector or the private sector, the government of Bangladesh is fully behind any attempts to seek out unused land beyond its borders," Minister Muhammad Abdur Razzaque told IRIN.
Bangladesh officials are in preliminary talks with Ukraine for wheat production, considering Cambodia for rice and visiting parts of sub-Saharan Africa to explore similar ventures, Razzaque added.
The country of 160 million people is seeking land to serve the country's food needs, as well as to create jobs for migrants who sent home US$11 billion in both 2009 and 2010, 12 percent of the $90 billion GDP in 2009, according to the government.
It is a way to cushion Bangladesh, where farmland is scarce and malnourishment a concern, against volatile global food prices, said Razzaque.
Bangladesh has one of the lowest rates of arable land per resident in the world, at about 54 hectares per 1,000 people in 2008, according to the World Bank.
Meanwhile, demographic pressures and urbanization have caused cultivated land to decline at a rate of 1 percent a year, as the population grows 1.6 percent annually, according to the World Bank.
At 175 percent usage, cropping intensity has also approached its limit.
As a result, the government has begun exploring various land-use deals abroad, from directly acquiring or leasing land to supporting private ventures that do so.
Pros and cons
While most of the demand for land globally has been in Africa, the former Soviet Union has also been targeted, for its productive soils and existing – albeit outdated – agricultural infrastructure, said Carl Atkin, a Cambridge-based agri-business investment consultant with KinnAgri Ltd.
"If this is done in the correct way, in a responsible way, it can be a win-win for everyone," he said.
But significant investment is required to coax crops from fallow land – and employing a local workforce is important to not disenfranchise residents, he added.
"This is not a short-term fix. If you're going to invest in farmland and farming, it's a minimum five- to 10-year time horizon, and probably longer," said Atkin.
Meanwhile, Ruth Meinzen-Dick, a senior research fellow at the Washington DC-based International Food Policy Research Institute (IFPRI), said foreign acquisition of land could be highly problematic.
Land that is billed as "unused" or government-owned is often used by local people with weak land rights, who have been farming the land for generations, but have no legal deeds.
In addition, costs to prepare the land and necessary infrastructure for planting are often higher than expected, she said.
Contract farming with local people – whereby a country buys crops at an agreed price – is an alternative that can capitalize on local knowledge, Meinzen-Dick said.
"In general, they are not a panacea for the investor country," she said of such deals. "Many of these are not living up to expectations on the investor side, and at the same time many of them are also really harming local people."
Of 464 large-scale agricultural land acquisition and investment deals that were announced from October 2008 to August 2009, actual farming had begun on only 21 percent of them a year later, according to a 2010 World Bank study.
Despite the costs, Razzaque said he expected farming overseas was still cheaper than importing more food, though the government has not conducted cost-comparison studies.
"Import[ed food] is subjected to the prices dictated by the global food market, which is often very volatile. In comparison, this venture will only be subjected to the production and shipment costs."
Hunger in Bangladesh, as measured by rates of undernourishment, underweight children and child mortality, improved from "extremely alarming" to "alarming" between 1990 and 2011, according to the Global Hunger Index (GHI) but food security, despite improvements, is still a major concern.
Two million children aged between six months and five years suffer from acute malnutrition, including half a million with severe acute malnutrition, according to a 2009 survey conducted by the UN and government.