Sydney Morning Herald | 8 November 2011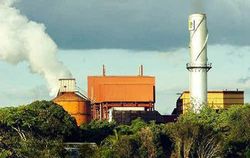 The Maryborough sugar factory, owned by MSF Sugar Ltd. The company owns over 5,500 hectares in the Maryborough district, 60 hectares in the Isis district and 315 hectares in Far North Queensland. It also owns water rights totalling 7,233 milliliter (ML) in the Lower Mary Irrigation Scheme and 142 ML in the Bundaberg Water Supply Scheme. (Photo: Karleila Thomsen)
by Paddy Manning
Two of the last big Australian-owned sugar mills, Maryborough and Proserpine, could soon be sold to foreign buyers in takeover deals worth more than $350 million.
Thai company Mitr Phol Sugar was seen as the most likely bidder for Maryborough after its owner, MSF Sugar, went into a trading halt yesterday pending announcement of a ''material control transaction concerning the company'', expected today or tomorrow.
Last year Mitr Phol paid $4 a share for a 20 per cent stake in MSF Sugar, which it boosted to 22 per cent in July.
Advertisement: Story continues below
Shares in MSF, Australia's third-largest sugar company, closed at $3.40 on Friday, giving it a market capitalisation of $235 million, and industry sources speculated a control premium of 20 to 30 per cent would need to be paid to secure a takeover.
Analyst Simon Dumaresq, of EL&C Baillieu, said comparable sugar industry sales indicated a price of $50 to $65 a tonne of cane milled would be paid for MSF, resulting in an offer price of between $4.20 and $5 a share.
RBS Morgans analyst Belinda Moore said while Mitr Phol was the probable bidder for MSF, it was likely there would be rival offers.
Interested parties could include: the China Oil and Food Corporation (COFCO), which recently bought Tully Sugar; Singapore's Wilmar International, which bought CSR's sugar business, Sucrogen, last year; or a bidder from left field such as Bunge, Louis Dreyfus or Cargill.
Complicating these scenarios was the appointment on Sunday of Korda Mentha as voluntary administrators of the Proserpine Co-operative Sugar Milling Association after an insufficient majority of shareholders voted to accept COFCO's $120 million bid.
For the past few months, Proserpine was the subject of a bidding war between COFCO/Tully and Sucrogen, and administrator Robert Hutson said final bids were expected within ''days not weeks'' with a sale to be put back to shareholders. More than 75 per cent need to approve a sale under the Proserpine constitution.
Yesterday, Tully and Sucrogen said they remained interested in buying Proserpine, with Tully lifting its cash offer to $122 million in a letter to administrators.
The chief executive of the industry body Canegrowers, Steve Greenwood, said the timing of the sale of Maryborough and Proserpine was co-incidental, but the industry would consolidate due to foreign interest.
He forecast this year's sugar crush would be about 28 million tonnes of cane, down from 32 million in a normal year, but high sugar prices, more than $US500 a tonne, were ''the only thing saving us''.
-----

Thailand's Mitr Phol Makes Cash Offer for Rest of MSF Sugar
Bloomberg | 9 November 2011
By Phoebe Sedgman and Soraya Permatasari
Nov. 9 (Bloomberg) -- MSF Sugar Ltd. shares rose to the highest on record after Mitr Phol Sugar Corp., a closely held Thai sugar miller, offered to buy the shares it doesn't already own in the Australian producer, valuing the company at A$313 million ($323.7 million).
Mitr Phol, which owns 22 percent of MSF, is offering A$4.45 a share in cash, 31 percent higher than its last closing price, Gordonvale, Queensland-based MSF said today in a statement. Shares surged 30 percent to A$4.41 at the close in Sydney, the highest since April 30, 1976.
The Thai miller has joined Bunge Ltd., the world's second- largest sugar trader, and Singapore-based Wilmar International Ltd. in seeking sugar assets in Australia, the third-largest shipper of the sweetener, to meet rising Asian demand. Cofco Ltd., China's largest grains trader, won control of Tully Sugar Ltd. in July and is seeking to acquire Proserpine Co-operative Sugar Milling Association Ltd.
"We wouldn't be surprised if a bidding war emerged for MSF, as we've seen with every other sugar asset," said Belinda Moore, a Brisbane-based analyst with Royal Bank of Scotland Group Plc. "We always expected that MSF would go at some point. Mitr Phol was the logical buyer, given they paid A$4 a year ago for about 19.9 percent."
MSF's board intends to recommend the offer in the absence of a superior proposal and subject to an independent expert report to determine that the offer is fair and reasonable, Chairman James Jackson said in a statement. The company will be able to tap growth opportunities in sugar in Australia and Asia, he said.
MSF owns four sugar mills with a total crushing capacity of about 4.7 million metric tons of cane producing around 550,000 of raw sugar each year, according to its website.
"We've seen a lot of consolidation in the sector of late," Moore said in a phone interview. "What we've seen is quite strong bidding tension and bidding wars for these sugar assets and big premiums being paid."
Wilmar, the world's biggest palm-oil processor, won control of CSR Ltd.'s Sucrogen sugar division in July 2010 with a A$1.75 billion bid, trumping an offer from China's Bright Food Group Co. Tully Sugar increased its cash offer price for Proserpine to A$122 million on Nov. 7.
Mitr Phol's offer is conditional on 50.1 percent acceptance and approval from Australia's Foreign Investment Review Board, according to today's statement. The bid also requires approval from Thai regulatory authorities, it said.
Australia may produce 3.8 million tons of sugar in the 2011-2012 season, Australia & New Zealand Banking Group Ltd. said last week. Exports may total 2.6 million tons, it said.
MSF is being advised by Greenhill Caliburn and Mallesons Stephen Jaques.
--Editors: Rebecca Keenan, Ryan Woo
http://www.businessweek.com/news/2011-11-09/thailand-s-mitr-phol-makes-cash-offer-for-rest-of-msf-sugar.html