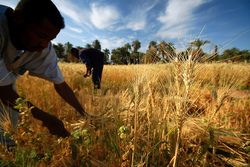 Farmers harvesting wheat in Sudan.
Daily News Egypt | November 10, 2011
OPIC approves $150 mln in financing for Egypt's Citadel
By Reem Abdellatif/Daily News Egypt
CAIRO: The Overseas Private Investment Corporation (OPIC), the US government's development finance institution, approved Wednesday a $150 million (LE 900 million) financial package for Egypt's Citibank that will go to the Cairo-based Citadel Capital, a regional private equity firm.
Foreseeing difficult times ahead, Citadel is preparing to secure their current ventures by continuing to invest and grow them.
"OPIC's financing facility comes at a time when the commercial sectors in Egypt most need support," said Ahmed Heikal, Citadel's chairman, in the OPIC statement.
Citadel, listed on Egypt's stock market, could not comment on details of OPIC's most recent package before informing the Egyptian exchange. The firm is set to discuss the package with Egypt's bourse next Sunday.
The loan was approved by OPIC's board of directors to help boost Egypt's economy during the country's transition. It is also meant to help Citadel Capital "expand its subsidiaries" in vital sectors in Egypt as well as the Middle East and North Africa (MENA) region.
"This [loan] will give us the flexibility we need to grow a number of our Egyptian platform companies amid economic headwinds from still-unfolding regional events," said Heikal.
In July 2010, OPIC provided $100 million in financing for investments alongside Citadel Capital. In July 2011, it also approved a $500 million finance package to assist Egypt and Jordan.
"Of the total guaranty amount, $125 million is specifically designated for investment in Egypt," according to the OPIC statement.
"In order to support the economic and political transformation of the Arab Spring, MENA countries need investment in vital sectors — and that's precisely the goal of this project," said OPIC President and CEO Elizabeth Littlefield.
"It addresses the shortage of credit in Egypt, where investment in important infrastructure sectors has been stymied by political uncertainty," she added.
Citadel Capital focuses on building regional sector leading companies in select industries through acquisitions, greenfield investments, as well as turnarounds.
The firm currently manages 19 platform companies with investments worth more than $8.7 billion in 15 different countries in various industries, including rail freight transportation, food and agricultural as well as waste management.
In August, Citadel acquired a $164 million finance package from six global development finance institutions for its Rift Valley Railway (RVR) of Kenya and Uganda.
In July 2011, the firm also announced that it had completed its first commercial wheat harvest in Sabina, the portfolio company that is developing 254,000 feddans (263, 652 acres) in northern Sudan.
"Since the revolution, we have engaged in housecleaning and ensured that our investments are in the best positions possible to weather the economic fallout from political changes that we are convinced will be positive for business in the long run," the company said in a statement on its website.
"Our investments are firmly on the right side of these trends: Our platforms are heavily weighted toward exporters, which will benefit from any further devaluation, as will our commodity plays in sectors including agriculture, mining and oil and gas," it added.
Currently, the firm's total assets under management rose 8.1 percent year-on-year to $4.1 billion.
The company's total principal investments stood at $903.2 million (LE 5 billion) at the end of the second quarter of 2011, a 1.4 percent decline from $916 million (LE 5.1 billion) in the previous quarter.