Reuters | 17 October 2011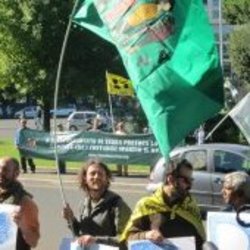 ROME, Oct 17 (Reuters) - A U.N. intergovernmental body on food security has failed to adopt international guidelines on land governance, delaying efforts to regulate so-called land-grabbing as investors race to snap up agricultural land.
A voluntary code of conduct has been in the works since 2008, driven by concerns that countries such as China and Gulf Arab states are buying swathes of land in Africa and Asia to secure their own food supplies, often at the expense of local people.
Olivier De Schutter, the U.N.'s special rapporteur on the right to food, said three quarters of the guidelines had been agreed upon in a meeting last week but that rules on large-scale investment in farmland remained a sticking point.
"The negotiations have not been finalised, but are on a good track," De Schutter said in an interview at the Food and Agriculture Organisation (FAO) in Rome on Monday. "But it's much better to have extremely detailed and ambitious guidelines even if it takes time".
He said members of the U.N. Committee on Food Security (CFS) would meet again at the start of 2012, when they hoped to reach a final draft agreement, and that the guidelines would probably be ratified in about a year from now. They had originally aimed to agree on a final draft last week.
The guidelines will form the basis for the first of seven principles for "responsible agricultural investment," drawn up by the World Bank and other U.N. agencies but yet to be adopted internationally.
The first of those principles will relate to recognition and respect for existing land rights. Further principles say investment should not jeopardise food security and that all those materially affected should be consulted.
A spike in food prices to record levels in 2007-08 sparked a wave of land deals as food-importing countries and major agricultural businesses sought to increase their supplies and protect themselves from price volatility.
U.S. Secretary of State Hillary Clinton on Monday urged more efforts to ensure everyone has access to adequate food, and said crises such as the famine in the Horn of Africa needed to be tackled urgently.
Independent experts released a report to coincide with the CFS meeting urging fair trade rules, transparency in commodity markets, the scrapping of governments' biofuels targets and sustainable land investment to ensure food security.
VIOLATING RIGHTS
Investors are now scrambling to snap up land assets before the sector becomes more regulated, as uncertainty in financial markets makes land an increasingly attractive investment, De Schutter said.
"Not just the stock markets but also the bond markets are less and less reliable and predictable, and less promising for investors, so they are more interested than ever in land," he said.
"There is now a race between investors coming into countries and the international community wanting to regulate this process in order to avoid it having fearsome consequences," he said.
International charity Oxfam says land grabs often violate human rights, particularly the equal rights of women, flout the principle of free and informed consent of affected land users such as indigenous people and ignore environmental concerns.
Countries who want to attract investment are currently competing with each other to provide buyers with the best deal, such as a low price for land, low taxes, and few demands for employment creation and protection of the local food system, De Schutter said.
Targeted African and Asian countries would benefit from a common set of guidelines, which would increase their bargaining position and make it easier for them to demand conditions to protect vulnerable land-users, he said.
Paul Mathieu, an expert on land tenure at FAO, said even the existence of dialogue between big investor countries, host countries and civil society was a step forward, which would not have been possible a decade ago.
"Land is a vital question for everybody at the government and the household level. It has always been a sensitive problem," he said. "The fact that so much time is being invested in dialogue shows that countries want an agreement." (Editing by Jane Baird and Anthony Barker)