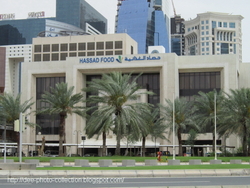 Hassad has bought over 13 large farms in Australia, 100,000 ha of farmland in Sudan, set up a farm company in Turkey, plans to purchase rice farms in Vietnam, Pakistan and India and wants to buy shares in farm operations in Brazil and Argentina
Gulf Times | 15 October 2011 |
Türkçe
Hassad plans overseas investments
Hassad Food Company is keen to secure food supplies for Qatar at reasonable prices through local and international investments in various countries, according to an article in the Qatar Chamber of Commerce and Industry memorial book '40 Years of Excellence and Achievement.'
Hassad, with a capital of $1bn is specialised in investment and development of agriculture and livestock. The company aims at achieving stable and sustainable supply of food that guarantees food security in the country.
To attain this, Hassad has plans to invest around $500mn to buy shares in various agricultural companies all over the world to implement government strategy to maintain constant and adequate supply of food and keep food prices at reasonable prices even in difficult times.
Hassad is holding negotiations with six different agricultural companies. Some Argentinean and Brazilian companies have expressed their willingness to sell shares to Hassad.
Hassad has bought over 13 large farms in Australia. Further, it has a huge agriculture and livestock project in Australia to the tune of QR1.5bn. The project initially aims at producing
150,000 sheep a year and up to 50,000 tonnes of wheat to be exported to Qatar.
Hassad has also bought 100,000 hectares of land in Sudan. When the necessary construction and infrastructure is completed, Hassad would conduct a feasibility study of a project with an initial capital of $100mn that would amount to $1bn in 10 years time.
There has been an agreement to establish a company with $100mn capital in Turkey for the production of sheep and 50,000 tonnes of wheat or barley.
Negotiations are also under way to establish a forage company in Brazil in addition to producing beef, cooking oil and sugar.
Further, there are plans to purchase rice producing farms in Vietnam, Pakistan and India.
Locally, Hassad owns a poultry project producing 17mn chickens and 120mn eggs a year. This covers around 22% of the needs of the local market.
Hassad hopes to cover around 60% of local market food needs through local production or partnerships with other countries.