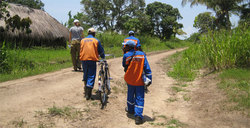 Daily News | 3 October 2011
Sun Biofuels jatropha project in Kisarawe suspended
By FINNIGAN WA SIMBEYE
AN ambitious biodiesel project which was allocated over 8,000 hectares of land by Kisarawe district officials in 2008 is in trouble.
Employees and casual workers of Sun Biofuels Plc, told Business Standard last weekend that work at Kisarawe jatropha farm came to a halt last week when managers informed over 300 of them to collect their terminal benefits and leave till further notice.
Some workers of the British firm, said they heard reports that the project has been sold but did not know who bought it.
"We were called and served with termination letters last week without any reasons being given," said on employee who identified himself as Saidi Mohammed.
He said the management promised to rehire some of them once the project gets on footing as financial problems have forced management to suspend work at the site.
Several workers expressed disgust at the failing jatropha project which is the second time in less than five years for foreign firms to abandon their jatropha projects.
Netherlands based BioShape Holdings which acquired 34,000 hectares of land in Kilwa district of Lindi region, abandoned the farm in November 2009 blaming global recession.
Before suspending work in Kilwa, BioShape had employed over 100 people permanently while another 700 were casual labourers. Efforts to get SBF Managing Director Richard Morgan comment on the latest development failed as he is reportedly outside the country.
But an official with the company said activities have been temporarily suspended because of droughts.
"The trees have been seriously affected by droughts such that we cannot continue to keep people on the job and pay them salaries," the official who rejected to identify himself said while dismissing allegations that SBF has disposed of the project.
Sun Biofuels applied for 20,000 ha of land in the district but only managed to get close to 9,000ha from 11 villages with a population of over 11,200 people, according to local officials.
The villages which also include Marumbo, Paraka, Kidugalo, Kului, Mtakayo, Vilabwa, Mitengwe, Mzenga 'A' and Chakaye, agreed to give the British firm their land in return for several promises.
Initially, district officials had set the compensation mark at 800m/- after an Ardhi University expert evaluation of individual plots but at the end of the compensation process which drew some complaints, less than 300m/- had been paid.
Targeting to supply the European Union market, SBF planned to invest 20 million British pounds by next year to produce jatropha seeds for use as raw materials to manufacture biodiesel.
The EU lured many multinational energy companies such as SBF to invest in renewable energies in developing countries such Tanzania where almost all projects are on the verge of collapse or shut down.
Europe's largest ethanol company, Sekab AB of Sweden is also struggling to sustain its Bagamoyo sugarcane plantations targeting to produce ethanol for consumption in Europe.
Decision by European Union countries to ensure that at least 20 percent of its energy comes from renewable sources attracted a lot of attention from the multinationals.