Business Standard | 5 October 2011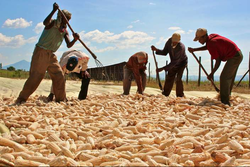 Razack Munboadan (second from left) and Hanumatha Rao (center), managers with Karuturi, an Indian company with four commercial farms in Ethiopia, check the corn harvested by workers at Karuturi's farm in Bako, central Ethiopia.(Photo: Reuters)
Karuturi Global Limited, the Bangalore-based publicly-held agri-commodities player, has said it has incurred a loss of $15 million due to flash floods in Ethiopia.
Karuturi in a statement said the floods had affected its maize crop in over 12,000 hectares of land that has been leased to them. The fresh floods bursting the banks of river Baro and Alwero has resulted in the submergence of the crop that would have produced up to 50,000 tonnes of maize, a senior company official noted.
However, the firm informed the stock exchange that it is committed for developing a second crop for this year and is confident that large-second crop will not see the same fate. The company had planned to plant about 20,000 hectares having completed 12,000 hectares. It had planned to sow 20,000-30,000 hectares in November-December, by growing maize on 10,000 hectares of maize while the rest 2,000 hectares was to be of paddy.
Karuturi Global is among the global majors in rose exports and during the past two years, it's been putting in place a concrete strategy to get into agriculture sector. The company, as part of the move, leased vast tracts of land in Ethiopia to grow a host of crops including wheat, oil palm, sugarcane, paddy among others. The company has initiated an ambitious $300 million investment plan over a period of five years to take this to fruition and is understood to be reaching closure to raise $180 million debt as part of this initiative.
As part of its damage-control move, Karuturi said it has retained the services of Wapcos Limited, a mini-ratna public sector enterprise, to provide consultancy services for undertaking flood control measures besides designing an irrigation and drainage system. WaterWatch, another Dutch advisory firm, has also been engaged in authenticating the irrigation, drainage and flood control by Karuturi.
This setback is expected to push back Karuturi's plans to increase its share of revenues from agriculture. The company was expected to get 35 per cent of its revenues from agriculture business in the next two years.
Ethiopia saw an above-normal rainfall during the June-September rainy season this year, with flooding in western, northwestern and central areas. Areas around Lake Tana in Amhara region, parts of Gambella and along the Awash basin in Afar region were affected. Parts of these areas, particularly in low-lying regions and near riverbanks, faced flooding.
Launching an appeal on July 11 for drought aid, Ethiopia's Agriculture Ministry had said the country's food security situation had deteriorated since the beginning of the year to the La Niña-induced drought currently ravaging parts of the country.