Zambia Post | 28 June 2011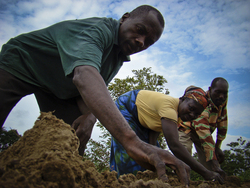 Lusaka: The Zambia Development Agency has received only two final bids from the companies that were shortlisted for the development of the Nansanga farm bloc in Serenje district. Announcing the bids on Friday, Zambia Development Agency (ZDA) acting director for investment promotion and privatisation, Henry Sakala said the two companies, Sable Transport Limited of Zambia and Bonafarm Group of Hungary were the only two companies that submitted their bids for the acquisition of the core venture of 9,350 hectares and three other commercial farms ranging in size from 1,600 hectares to 4,000 hectares.
Sakala said the agency had shortlisted 10 companies to submit bids for the acquisition of the Nansanga farm bloc but eight of them could not bring their submissions forward while others submitted late. He said the two bids would now be subjected to an evaluation process after which the committee of permanent secretaries would approve the preferred bidders for the core venture and the three commercial farms.
"The preferred bidders would be invited to participate in the negotiations expected to commence soon," Sakala said. "We are happy with the response from both local and foreign investors to this project."
The companies that did not submit their bids after being shortlisted were Chayton Capital LLP (UK), Yuan Longping Hightech Agriculture, Crookes Brothers (South Africa), Polyserve Fertlisers and Chemicals (Egypt) and AFGRI (Zambia). Others included SCZ international (Seedco Zambia), SEA Agriculture Consortium (UK) and Pro Alia Investments (Mauritius).
The Nansanga Farm Bloc development programme is a government initiative to commercialise agriculture land in Serenje aiming at creating an enabling environment that would allow investors fully exploit the agricultural potential in rural areas with objective of reducing poverty.
The government intends to replicate the Nansanga Farm Bloc development model which will incorporate out-grower schemes and agro-manufacturing plants in eight other provinces of the country in a bid to open up rural areas to economic development.