Ukrainian News Agency | 27 September 2011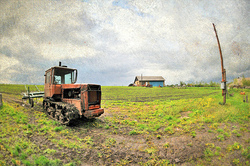 Chinese Export-Import Bank is in talks with the Government of the Ukraine for its involvement in the financial operation of the land market in the Ukraine.
The Ministry of Agrarian Policy and Food Supplies says that Chinese Export-Import Bank is ready to invest USD 10 billion into agricultural sector of Ukraine, the ministry said.
According to the report, respective statement was made by Agrarian Policy and Food Supplies Minister Mykola Prysiazhniuk after his visit to China within Ukrainian delegation headed by Serhii Arbuzov, the chairman of the National Bank.
In frames of the visit, the Ukrainian delegation met with president of the China's bank.
At the meeting with the president of the bank, the sides discussed financing of infrastructure and agricultural investment projects in Ukraine and also participation of the Chinese bank in financial operation in the land market of Ukraine.
Soon, the bank intends to send a workgroup to Ukraine to permanently co-operation with Ukrainian partners.
Prysiazhniuk also met with board chairman of the Chinese national corporation for development of agriculture.
The sides discussed prospects and conditions of co-operation of the corporation and Ukraine in agriculture.
Representatives of the corporation in October intend to visit Ukraine to meet with representatives of State Food-Grain Corporation and cattle breeding and fishing enterprises.
As Ukrainian News earlier reported, in August, a workgroup was created formed of the State Food-Grain Corporation of Ukraine state-run enterprise, Kyiv bank and the Chinese National Machine Building Industry and General Contracts.