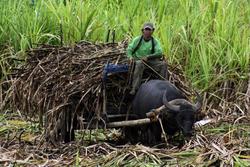 Business World | September 26, 2011
SMC urged to tap contract farmers
THE AGRICULTURE department plans to persuade San Miguel Corp. (SMC) to resort to contract growing instead of leasing state land when it undertakes a planned farming venture.
Farmers will be better off if they form a cooperative that will negotiate selling prices with the conglomerate instead of just working as hired hands, Agriculture Secretary Proceso J. Alcala yesterday said in a briefing.
"I am more in favor of contract growing instead giving them (San Miguel) 2,000 hectares because that would mean that farmers would remain forever poor," Mr. Alcala said, explaining that farmers will not be willing to plant if there is no guaranteed price for the produce.
Under a contract growing scheme, he added, San Miguel can also provide support to farmers in the production of crops by giving equipment which will be paid back after the produce is sold.
In exchange, San Miguel will be given priority over the expected harvest, Mr. Alcala said, adding that he will be meeting with San Miguel officials to explain his take on the matter further.
San Miguel, whose food units produce poultry, pork, animal feed and canned goods, earlier expressed interest in leasing government lands and developing these into farms.
In 2008, San Miguel signed an agreement with Malaysia-based Kuok Group, a listed palm oil trader, to invest up to $1,000 per hectare of idle government land to plant rice, corn, sugar, coconut and palm oil, among others.
Under the agreement, both firms will provide the financing, technical support and management for agricultural crop production determined to be suitable for areas covered by the project, which would include irrigation, access roads and post-harvest investments, among others.
Asked about the expression of interest of foreign firms to develop agricultural lands through a lease, Mr. Alcala said that the department is currently studying its position on the matter.
"This will need a policy from the national government," he said.
SMC's consolidated net income jumped 72% to P10.8 billion in the first half of the year.
San Miguel common shares closed at P111.50 apiece yesterday, down 3.8% from its closing price on Friday. -- LDD