Daily Trust | 30 August 2011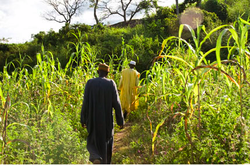 by Hir Joseph
Lafia — A Singapore-based investor in agriculture is to put in an investment of $50 million in 10,000 hectares of fully irrigated and precision levelled commercial rice farm in Ondorie area of Doma Local Government Area of Nasarawa State.
The investment is being discussed on a Public/Private Partnership (PPP) basis and is projected to generate over 2,500 jobs at the farm alone, with the community benefitting from it.
"It is going to be the largest rice farm in Africa, fully mechanized. The investors are going to put up a world class rice mill there. This is part of our administration's efforts towards creating more revenue bases, to boost accruals," the state governor, Umaru Tanko Al-Makura told Daily Trust, last week.
He said the investment which is part of his holistic agricultural development drive has reached agreement stage and would be declared public soon.
He did not name the investor, but Daily Trust gathered the Singapore-based company has completed the buying of the agricultural business concern from another investor who has been operating in Ondorie.
Ondorie, a farming community, has a large expanse of marshy land running beside the Benue River in the southern zone of the state.
Al-Makura said as part of his administration's efforts to boost the economic wellbeing of the state through agriculture, the government has considered tax holidays for investors, a policy which the agriculture-based company is already benefiting from.
He also disclosed plans to run access roads and electricity to the area to encourage the investment.
He said: "They should have accessible roads to their farms. We are also going to link the area with electricity, which will tap from the national grid, even though the national grid line runs a far distance from that area.
"We are doing all these so that our partners will have easy take off."
He said the investment will be one of the packages for his people within his first 100 days in office.