Tanzania Daily News | 25 September 2011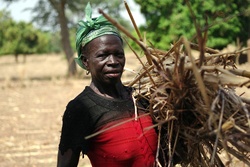 Nageena Jha
IN the recent past, land rights activists have been expressing their fears and concerns about the malicious trend of selling or leasing large farmland to foreign multinational companies and governments, without taking into account what will be the impacts on indigenous communities.
Their major fear is that global land grabbing' processes will incapacitate citizens particularly smallholders and the grass root Tanzanians' ability to feed themselves and sell the excess to sustain their livelihoods.
During the Gender Festival Week in Dar es Salaam recently, activists expressed their concern about the impact of selling or leasing large arable land to foreign multinational companies and governments will derail efforts to empower women and promote gender equality.
As the country strives to empower women, it's obvious that the issue of land grabbing will impact heavily on women's well-being particularly girl child as usually at the end there will be winners and losers. In this case, women and their girl children are likely to lose. They will lose the battle to the grabbers because if the customary land is grabbed definitely, the family will have lesser resources to advance their children in education and other areas to attain better livelihood.
Son preference will favour boys and the parents particularly fathers will choose to advance boy children in education, as a result "unwanted girl child" will suffer consequences which include violence, being forced to child labour, sex exploitation that will culminate into teen pregnancy, caught up in HIV/AIDS, abandonment and finally death of a young woman, explains Emiliana Kimaro from KIWAKUKI organization based in Moshi.
"There is also the possibility of an increase in violence against girl children resulting from such pressures caused by absence of family land. For instance, it may lead to further trafficking of girls within and outside the country in order for the parents to source some money to manage their lives."
Adding further that the eventuality will be forced marriages, forced sex, transmission of sexual related infectious, unwanted pregnancy which will culminate into production of a huge army of most vulnerable children. She proposes that concerted efforts are needed by governments and civil society to address the challenges and impacts of land grabbing on women and girl children.
Thus, the country should first develop and promote policies that protect and integrate women, orphans, widows and people living with HIV/AIDS into agricultural investments which will be developed by foreign investors. Beatrice Laizer from SOSA Foundation in Longido- Arusha, proposed that in order to protect women and girl children's rights land rights, the government should do thorough research and collect more reliable data on how to help women and children living in areas where their farmlands will be leased to foreign or local investors.
She said that the government has to ensure that supportive measures are in place to cushion girls and women from poverty. "We talk about incentives such as helping families with daughters to advance them in education, providing an alternative income sources for the affected families, this can be to give them the ownership of the investment by making them part of the shareholders to the investment that has acquired their land," she adds.
Laizer hints that it is upon the government and the investors to source funds to enable indigenous people to acquire share in the agricultural investments which has been established from the local communities lands. John Myola, children rights activist from AGAPE AIDS Control Programme in Shinyanga, felt that with the new increased cross-border, large-scale land transactions, Tanzania needs to conduct a thorough discussion of gender in relation to land acquisition.
The nationwide debates should iron out challenges of women's land rights, particularly in regard to the customary land law. Although in Tanzania the land is owned by the state, in order to make idle land more meaningfully to people particularly the grass root, before renting it to foreigners, the government should give land titles to institutions.
Such institutions can be the villages, municipalities, women civil organizations dedicated to advance development and the schools. In this process the investors will be required to pay lease charges to the owners. "This will be more participatory and will give the grass root people legal power over their land and also the ability to challenge the investments and demand the entitlements accrued from the production activities," he remarked.
He observes that in many instances the privatization process of land for agriculture in many parts of the country has stripped women and children access to land. Thus, in order to prevent further damage on children, particularly orphans, boys and girls should be given their own land title deeds, alongside, there must be means to protect their deeds until they reach maturity age.
The children's' land should not be leased to foreign investors. In Zimbabwe, the government amended the inheritance law to give the surviving spouse, legal powers to inherit the land. Any surviving spouse becomes a legitimate heir, said Margaret Dongo, activist from Zimbabwe Union of Democrats Party. However, Ms Dongo notes that lack of information has made many women in rural areas unaware of it, as a result the majority particularly in the grass root are left without access to land after the death of their husbands.
The Tanzanian New Constitution should borrow a leaf from Zimbabwe to amend the inheritance customary land law to make the surviving partner whether a man or a woman a legal heir of the family land. Additionally the government should inform the public on the amendments.