IndiaCompanyNews | 24 September 2011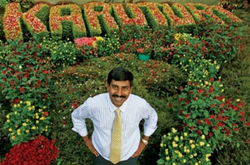 by Nathan Harris
India-based company Karuturi Global Limited is planning to make an investment of $2.5 billion in Tanzania's agriculture in the upcoming years.
Sai Ramakrishna Karuturi, the managing director of the company, has stated that the investment would be channelized towards cultivation of rice, sugarcane and palm-oil producing palm trees. Speaking to BusinessWeek, Mr. Karuturi has declared that his company is contemplating a total investment of $2.5 billion in Tanzania's agricultural sector following the successful investments of $500 million in Ethiopia and $150 million in Kenya. The company is looking to develop fertile agricultural land for growing cereal crops like maize & rice and commercial crops like sugarcane as well as palm trees.
Karuturi revealed that the existing healthy relation between Tanzania and India has prompted such an investment decision. Besides, Tanzania offers pristine harbours, tranquil atmosphere, rich cultivable soil and a conducive trade environment. All these factors have contributed significantly to this decision of investing money into the African nation.
Presently, the procedure is in progress to acquire land and the operational activities are expected to commence within one year. Karuturi Ltd has long term plans to sell a portion of the produce in the African markets and exporting some to India. Contract farming is also a part of the company's agenda as it wishes to make value-increment to the crops.
Tanzania's agricultural sector may gain from the company's endeavours as the nation is reeling under a sugar deficit of 300,000 tonnes. Besides, there is a substantial deficit of rice production in Tanzania and other East African regions like Kenya that has to import 300,000 tonnes of rice from Asian countries of Thailand and Pakistan.