ZeeNews | 17 September 2011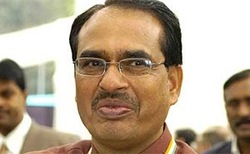 Beijing: Making a strong pitch for Chinese investments in his state, the Chief Minister of the BJP-ruled Madhya Pradesh has said that issues like corruption and inflation were being dealt with.
Stating that corruption was not "as big a problem" as being made out, Shivraj Singh Chauhan said: "the problem is not as big as compared to the debate it has generated...those who have committed wrong are behind bars. Even a former minister is in jail."
Chauhan told media in the Chinese capital after attending the World Economic Forum meeting in Dalian that stringent action was being taken against culprits in corruption cases as India had a "very transparent system".
He said in his state Citizens' Charter Act had been enacted under which public services have to be provided in a fixed time frame.
Replying to questions on the spiralling inflation, the chief minister said inflation was not permanent in nature and and the government was making all efforts to curb it.
"The FDI will not be affected...the Indian rupee is stable vis-a-vis the US dollar," he added.
On the issue of acquisition of land for industries, Chauhan said his state government prefers to works only as a facilitator between the land owner and the buyer. But at the same time, it ensures that the land owner gets sufficient rates for the sale and is not short-changed in the process.
Chauhan said the various e-governance projects initiated by his government have ensured a transparent system of according clearances to investment proposals.
He said Madhya Pradesh plans to hold an investors' summit in October, 2012 where Chinese companies too would be invited. As of now, two Chinese companies have their presence in the state.
The chief minister would also attend another such seminar at Shanghai to scout for investment in development of power, infrastructure and Automobile sectors.
The focus sectors of investment in Madhya Pradesh include mining, energy, infrastructure, engineering and automobile, agriculture and food processing, information technology and tourism.
According to state government officials, over ten multinational companies have expressed their interest in investing in Madhya Pradesh during the WEF meet.
Chauhan's meetings with a delegation from Kenya, Karuturi and Ethiopia were focused on agriculture development and possible areas of work for mutual benefit, they said.