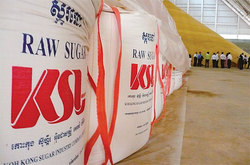 Sacks of freshly produced raw sugar are lined up at the Cambodian plant in which SET-listed Khon Kaen Sugar Industry Plc (KSL) is a jointventure partner. The plant last year became the first new sugar mill to begin operating in the country in more than 40 years.



PHNOM PENH : Cambodia's burgeoning sugar industry has appeared a sweet deal to both local and international investors of late. Allegations of land-grabbing and human rights abuses now dogging producers, however, have left many people souring on the sector.
With neighbouring Thailand, the world's second-biggest sugar exporter, aiming to export 7 million tonnes this year, sugar would appear a natural choice for Cambodia as it attempts to diversify its agro-industrial production. Adding further attraction has been the duty-free access to European markets which, along with guaranteed minimum prices, came into effect in 2009 for Cambodian sugar as part of the European Union's Everything But Arms (EBA) trade initiative.
In one of the industry's most prominent projects thus far, Thailand's SET-listed Khon Kaen Sugar Industry Plc (KSL) partnered in 2006 with the Taiwanese company Vewong and Cambodian businessman and senator Ly Yong Phat in a joint venture to harvest sugarcane on roughly 20,000 hectares in southwestern Cambodia. In June of last year, the group made its first shipment to Europe, exporting 10,000 tonnes of sugar to the United Kingdom under the EBA agreement.

But as the project has been developed, thousands of Cambodian villagers claim they have been pushed off their farmland, in some cases left homeless and denied their livelihoods, according to local rights groups. Community leaders have been intimidated with lawsuits and attacked by police seeking to clear their land on behalf of the project.

Ly Yong Phat has developed sugar plantations in three provinces, in all of which he has been accused of illegal land-grabbing by NGOs and villagers. The senator brushed off the allegations in an interview with the Phnom Penh Post earlier this year, saying that his concessions had been granted lawfully and that the frequent protests against his operations had been orchestrated by "political parties".

A

report

released last year by the NGO Bridges Across Borders Cambodia, however, documents a litany of abuses allegedly committed in the service of Ly Yong Phat's plantations, saying he had been able to "flout the law at will" due to his status as a member of Cambodia's ruling elite.

Last year, KSL brought out Ly Yong Phat's stake in the joint venture and it now controls 70% of the project, according to its annual report last year.

Meechai Piyavisadpat, an investor relations officer for KSL, said any land problems near the company's Cambodia concession were "not because of KSL's operations". He said that the concession had been lawfully granted by the Cambodian government, and that local residents affected by it had been properly compensated already.

"Right now, we don't have any problems with the villagers," Mr Meechai said. "In the past, we have [paid] some compensation, provided land _ we helped them to develop [a] new area."

But David Pred, executive director of Bridges Across Borders Cambodia, said KSL was not blameless in the dispute, which locals claim remains unresolved.

"KSL has a majority ownership of a concession that illegally appropriated the private land of hundreds of local villagers," Mr Pred said. "The land-grabbing may have being carried out by KSL's business partner prior to its joint-venture agreement, but KSL has nonetheless profited from the land-grabbing."

Mr Pred's group estimates that overall, more than 12,000 Cambodians have been affected by land-grabbing and other rights abuses associated with the sugar industry.

DWS Investments, the retail asset management arm of Deutsche Bank, owned a stake in KSL until last year, when it divested its holdings. DWS spokesman Claus Gruber said the choice to part with the shares _ equating to 2.15% or about US$14 million _ was primarily a financial decision, but that the controversy in Cambodia also played a role.

"This human rights perspective has also affected how we assess the future of the company," Mr Gruber said.

"On the one hand, there is financial data, on the other hand, there is non-financial data. These environmental and social and governance issues are more the non-financial data."

NGOs and members of the Cambodian opposition, meanwhile, have called on the European Union to review Cambodia's privileges under the Everything But Arms programme, claiming the agreement has in effect incentivised land-grabbing and other human rights abuses associated with the expanding sugar industry. Earlier this year, Cecilia Wikstrom, a member of the European Parliament from Sweden, travelled to Cambodia for a fact-finding mission on the issue, later terming the exports in question "blood sugar".

EU officials in Phnom Penh did not respond to a request for comment.

Mr Gruber, too, called on the EU to investigate the issue, saying it had a responsibility to offer "guidance" to European firms looking to invest abroad.

"When they set up the Everything But Arms programmes with countries such as Cambodia - countries with poor transparency, poor governance - I think the European Union is also responsible for looking into these kinds of issues," he said.