LiveMint.com | 5 September 2011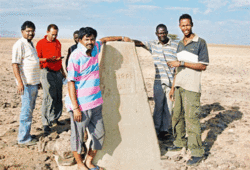 Mohamed Saleem (in pink-and-blue T-shirt), founder of Sara Cotton Fibers, at his farmland in Ethiopia. Saleem is poised to plough in $6.4 million to grow cotton on 25,000 acres of land in a fertile valley in southern Ethiopia close to the perennial Omo river. (Photo: Mohamed Saleem)
Anupama Chandrasekaran & Vidya Padmanabhan
Chennai: When R.S. Mohamed Saleem, a 37-year-old high school dropout from Coimbatore, sought to untangle his knotted cotton trade-a two-decade-long struggle during which he shrank from being a first-generation cotton farmer to a broker—he ventured out 3,000km west to Ethiopia.
Saleem, who has never owned more than 50 acres of land in India, is poised to plough in $6.4 million (nearly Rs. 30 crore) to grow cotton on 25,000 acres of land in a fertile valley in southern Ethiopia close to the perennial Omo river.
"Ethiopia offers an investor-friendly climate for companies, with incentives such as a three-year tax holiday," Saleem, founder and chief executive of Sara Cotton Fibers Pvt. Ltd, said in an email response from Ethiopia. "The Ethiopian government has also announced cotton as a priority sector for the country."
Indian companies
are making a beeline to grow agricultural commodities and sell seeds, fertilizers and agriculture equipment in the Horn of Africa thanks to the availability of cheap labour and a dole-out of vast fertile land chunks by Prime Minister Meles Zenawi through the last decade.
But allegations of forcible possession of plots by the Ethiopian government to create land banks, and environmental damage from projects such as a proposed dam on the Omo river continue to cast a shadow on such ventures.
"If the government dams the Omo Valley tribes' water and parcels off their land to outsiders, these peoples may not survive," said Stephen Corry, director of London-based Survival International—a global advocacy for tribal rights—via email. "The government is pushing industrialization at the ultimate expense of the country's most vulnerable people."
The Ethiopian government denies that the policy is putting its people at a disadvantage. "Most Ethiopians live on highlands; what we are giving on lease is low, barren land," said Metasebia Tadesse, minister counsellor at the Ethiopian embassy in New Delhi. "Foreign farmers have to dig metres into the ground to get water. Local farmers don't have the technology to do that. This is completely uninhabited land. There is no evacuation or dislocation of people."
With Zenawi—Ethiopia's prime minister of nearly 20 years accused by human rights watchers of curbing press and civilian freedom—and Indian businessmen betting on cash crops such as sugarcane, tea and cotton, it's unclear whether one of the world's poorest countries' food security issue is being tackled.
The Ethiopian government insists that it is in fact addressing food security by prioritizing cotton, sugarcane, palm and rubber cultivation by foreign investors. "These are high-capital, strategic products that are our way to industrialization," Tadesse said. "When we develop, we can feed more of our people." He added that though the focus was on the four cash crops, there were many investors who were producing food crops in Ethiopia "purely for the local market".
About $2 billion, or 40%, of India's $4.78 billion investments in Ethiopia come from agriculture and floriculture companies, according to the ministry of external affairs. India is the East African country's second largest foreign investor behind the European Union, and ahead of China.
Indian agriculturists doing business there try to offset criticism of being neocolonialists by taking on social initiatives and highlighting their contribution to the food security of the drought-prone and famine-hit country.
"Ethiopia has been a food-importing part of the world, and large-scale agriculture production by foreigners is only going to boost food supply," said Sai Ramakrishna Karuturi of Bangalore-based Karuturi Global Ltd, the world's No. 1 exporter of cut roses with 250,000 acres under rose cultivation in Ethiopia and which plans to triple cultivated area with crops such as maize.
The 1994-incorporated Karuturi Global ventured seven years ago into Ethiopia to scale up its low-cost rose exports business. In 2010, it logged a 20% sales growth, touching $115 million, with expectations of reaching $1 billion in five-six years.
But such large-scale commercial ventures are stoking doubts about bridging the gap between the demand and supply of food in Ethiopia.
"Many of the transnational land deals being concluded in Africa are therefore not about cultivation of food at all, let alone cultivation of food for Africa," said an online report of Africa-focused agriculture policy group Future Agricultures.
In recent years, manpower costs of India's largely marginal farmers have surged following greater availability of less strenuous factory jobs and welfare programmes such as the Mahatma Gandhi National Rural Employment Guarantee Scheme. Yet, Indian corporations that can afford to hire mechanized harvesters to cope with labour shortages steer clear of large-scale farming owing to the difficulty of buying and operating on several small plots and government restrictions on agriculture ownership.
Sara Cotton's Saleem had struggled with exactly these issues. So when he attended a 2006 road show by the Ethiopian government in Coimbatore and learned about labour costs in the African nation being one-tenth those in India, and the availability of thousands of acres of untouched arable land, he took the plunge.
While cotton prices have halved in recent months following a slump in demand from China, the world's largest cotton importer and garment supplier, demand is expected to rise.
"Our belief is that cotton has significant growth potential in terms of clothing," said Suresh Kalpathi, a seed-stage investor in Sara Cotton, holding a 58% stake. "Ethiopia is one of the most stable countries in Africa, with vast tracts of suitable land, water and cheap labour."
With a $4.48 million loan and remaining in equity capital, Saleem is hoping to harvest 30 million kg of organic cotton from 3,000 acres by July. That would bring in roughly a Rs. 80 crore profit on Rs. 200 crore revenue this year. The Ethiopian government doesn't allow Bt cotton—the genetically modified version of the plant that is widely used in India—because of allegations of high seed costs and a decline in soil fertility, Sara Cotton's chief financial officer Sundhar Rajan said.
The company is currently flying in Indian agriculture graduates to offer farm training to Ethiopian cattle-breeders and plans to distribute cottonseed oil to surrounding villages at a subsidized rate. Meanwhile, Karuturi supports drinking water supply initiatives and food donations to needy Ethiopians.
Still, few
Indian companies
flocking to Ethiopia question the means of land acquisition or the ecological consequences of the government's strategy. During a trip to that country in August organized by the Federation of Indian Chambers of Commerce and Industry, delegates from 33 agro-companies scouted for contract farming, and seed and farm equipment sales.
"None of the businesses had questions on human rights issues or ecological impact of farming," said Sheila Sudhakaran of the Delhi-based business group.
[email protected]