Addis Fortune | 30 August 2011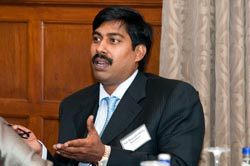 "Ethiopia is an agricultural paradise with a vast amount of land, favourable climate and low labour costs," says Ramakrishna Karuturi, who's company has acquired over 300,000 ha of land in Ethiopia on a long-term lease.
by Elleni Araya
Ethiopia faces serious competition from neighbours Uganda, Tanzania
Ravi Somani, managing director of an agro products processing company, and Ephraim Dagne, managing director for Africa Printing, sit and chat with Abrham Negash of Ashraf Agri & Industry, during the event held at the Hilton Hotel, on August 23, 2011.
The likelihood of Ethiopia facing stiff competition from Tanzania and Uganda in attracting Foreign Direct Investment (FDI) from Indian agri-businesses has reared its head during a visit from a 35 member delegation last week.
The delegation made the last leg of its trip in search of business opportunities in East Africa, arriving in Ethiopia on August 20, 2011, after visiting the other two countries. The businessmen, led by the Federation of Indian Chambers of Commerce and Industry (FICCI), held talks with the Ethiopian Chamber of Commerce and Sectoral Associations (ECCSA) and its Addis Abeba counterpart at Hilton Hotel on August 23, 2011.
This event, which came on the heels of the second Indo-African Summit, held in Addis Abeba in May 2011, also included business to business meetings between prospective Indian investors and Ethiopian businessmen.
Agriculture is the leading sector which was represented by most of the delegates with few representatives from the mining, food processing, health and manufacturing sectors. Although Ethiopia presented a lucrative environment for new business ventures in agriculture, they were also presented with equally lucrative opportunities in the other two countries, admitted some members of the delegation Fortune talked to.
Several of the delegates, found the favourable climate and fertile lands attractive in Ethiopia not to mention the country's clearly set guidelines and incentives for investment.
However, the special attention given to the delegates by President Yoweri Museveni of Uganda, and the availability of a port in Tanzania also proved attractive, according to the delegates.
The President met with the delegation, discussing several investment opportunities, according to Sheila Sudhakaran, assistant secretary general of FICCI.
This seems to have made an impression on Ravi Somani, managing director of Utsav Exim, an agro products processing company.
"President Museveni personally came over to me and talked about processing paper from banana stems," Somani told Fortune.
Uganda stands 20th on the list of largest banana producing countries with India, Brazil and Ecuador at the top, according to a 2010 Food and Agriculture Organization of the United Nations (FAO) report.
Museveni may have a reason to pay extra attention to the Indian delegates and encourage them to invest in his country. Uganda's exports to India in 2009/10 were the lowest of the three east African countries with 13.4 million dollars. Ethiopia follows second with exports worth 18.6 million dollars while Tanzania's exports surpassed both countries at 238.1 million dollars, according to India's Ministry of Commerce and Industry (MoCI).
Out of the commodity items Ethiopia exported to India, pulses accounted for the biggest share of 5.5 million dollars with vegetables accounting for 2.9 million dollars of exports.
However, in terms of FDI stock at the end of 2010, Ethiopia barely tops the two countries with four billion dollars surpassing Tanzania by only 200 million dollars, according to an FDI report on Least Developed Countries (LDCs), published by the United Nations Conference on Trade and Development (UNCTAD) in 2011.
The close gap between Ethiopia and Tanzania in FDI stock and the huge gap in export earning Tanzania has over Ethiopia indicates that Tanzania may be a force to reckon with when it comes to strengthening bilateral relations with India. Tanzania's imports from India at the end of 2010 were 920.5 million dollars, 262pc higher than Ethiopia's.
For Somani and his agro products processing company, the presence of a port in Tanzania was attractive.
"Comparing the relative advantages of the three countries, Tanzania proves to be a cheaper alternative as the presence of the port makes it easier to do international business," Somani told Fortune. "But in landlocked Uganda, whose agricultural sector is not that developed, targeting production for local consumption is a better alternative."
The agriculture sector in Uganda accounted for only 23pc of its Gross Domestic Product (GDP), while the service sector accounts for 51.9pc of GDP, according to the International Monetary Fund's 2010 country report.
Ethiopia, which claims agriculture is the main priority for economic development, also arranged for the delegation to meet with Tadesse Haile and Mitiku Kassa, minister and state minister of Agriculture.
Ramakrishna Karuturi, founder and director of Indian agribusiness giant Karuturi Global Ltd, was also part of the panel that was trying to convince the delegation of the lucrative opportunities in agri-business at the event held at Hilton Hotel. Often portrayed as the poster child of Indian FDI in Ethiopia, Karuturi, who has received 311,000ht of land in Ethiopia for the cultivation of cereal crops, palm oil and sugar cane, had nothing but praise when describing opportunities in the sector and Ethiopia's long term plans.
"Ethiopia is an agricultural paradise with a vast amount of land, favourable climate and low labour costs," he told the delegates, some of whom had a chance to visit his farm near Bako Town, Oromia Regional State, 251km west of Addis Abeba. "The country also has the guts to dare to dream with the new Renaissance Dam and ambitious GTP, on which I know they will deliver."