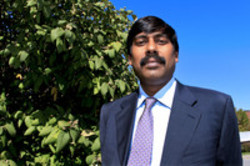 Ram Karuturi
Daily Monitor (Kampala) | Monday, August 22 2011
Agri-business still an unexploited sector
By Faridah kulabako
With about 5.5 million hectares of arable land, fertile soils and plenty of rainfall, Uganda still suffers the brunt of famine despite the country's agriculture potential. However, over the years, the sector has increasingly drawn attention from foreign investors, keen to plough money into the trade.
Last week, Uganda received a 35 man business delegation from India interested in the country's agribusiness potential and boosting its exploits. Mr Ramakrishna Karuturi, the leader of the delegation, said the team intends to invest up to $2 billion in agribusiness pending the issue of investment licences.
The team is keen on mechanised commercial farming, fertiliser and pesticide manufacturing, agro-processing, agriculture equipment importation, finance and information and communication technology.
Agriculture Minister Tress Bucyanayandi said increased investment in agriculture will boost food production, reduce high food prices and ensure food security in the region.
He said the delegation should also consider investing in financial institutions that are dedicated to financing agricultural projects as commercial banks shun funding the sector due to risks involved.
"Most commercial banks shy away from financing agriculture, which hinders agricultural value addition," he said in Entebbe last week.
Agriculture is Uganda's dominant sector, employing over 70 per cent of the country's population and accounts for about 48 per cent of the country's exports. Mr Bucyanayandi also noted that the government is contemplating eliminating middlemen from the agricultural value chain, a reform that seeks to boost farmers' household incomes.
No exploitation
Farmers will be organised into farmer and marketing groups and cooperatives to increase their bargaining power for higher payments and stop middlemen exploitation. "Middlemen pay them very little money yet they over charge the final consumers. So this needs to be implemented with immediate effect," he said.
Uganda Investment Authority director for investment promotions Issa Mukasa told the prospective India-Uganda agribusiness meeting on Friday that they should also consider investing in hides and skins value addition and dairy farming and processing since they are also still under-exploited.
In June, Nitol-Niloy Group of Bangladesh commenced negotiations with the Ugandan government to invest about $12.5 million to lease approximately 10,000 hectares of land to be used for agricultural production.
[email protected]