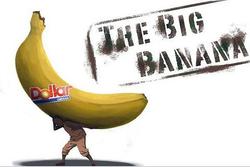 'The Big Banana' documentary shows the effects of an export banana plantation on the Mungo region of Cameroon, August 2011
Photo: 'The Big Banana'
VoA News | August 13, 2011
Cameroonian filmmaker unpeels banana inequalities
Nico Colombant | Washington, D.C.
Disputed land rights, food insecurity and pollution caused by large-scale export-based agriculture are main themes of a Cameroonian-made movie currently being shown in the United States. Those important issues and more were presented at a Washington showing of the film called The Big Banana.
An animated character of a hunched over Cameroonian farmer strains to walk under the weight of a giant banana marked with a dollar sticker.
In the movie, a woman from a farming community in the Mungo region of Cameroon says villagers are not going to war against anyone.
She says they are simply asking those who operate banana plantations to give back the land, which she says belongs to local villagers.
Film director Franck Hameni Bieleu says authorities prevented the film from being shown in Cameroon's capital Yaounde, which does not surprise him. He says filming was extremely difficult, and even led to his brief detention.
"I got arrested because the chief of that part of the village did not want me to film because he is being paid by the banana company. Everything around that area is controlled by the company," said Bieleu. "If you look at the congressman of the region, he is also the director of public relations of the company, the minister of trade of Cameroon is also president of the board of directors of the company."
Representatives for the company, Plantations du Haut Penja, which is French and American owned, refused to be interviewed for the film. They did not respond to a request for an interview for this report, nor did Cameroonian officials.
Big Banana Trailer from Franck on Vimeo.
Bieleu is now taking his movie on a tour of the United States, where he says people are not aware of what is at stake when they buy a banana. He says large parts of fertile land in Cameroon are being used for banana exports, making it more and more difficult for the region's residents to grow their own food or to find food they are able to buy for themselves.
The use of pesticides is being blamed for polluting water and causing health problems. Villagers accuse the company of destroying their own fields to expand the banana plantations after obtaining land leases from the government. And with less local crops, food prices are going up for all Cameroonians.
Bieleu says the problem exists across Africa as agricultural land is increasingly becoming a prized commodity for foreign investors, to the detriment of local residents.
"When a company arrives and just shows the money, the big cash, what happens is the government just gives them the land that they want and these people cannot defend themselves because they do not have any rights on that land."
Bieleu says pre-colonial principles of traditional rights to land quickly disappear when confronted with government corruption.
An organizer of the film showing, Emira Woods, with the U.S-based Institute for Policy Studies, says she believes what many activists are calling the "land grab" is the biggest issue facing Africa this century.
"The structure of the problem has to be changed so that more, and particularly small and medium-sized farmers, have the opportunities to remain on their land. And at the moment because of threats from multinational corporations, from sovereign wealth funds, whether it is Saudi Arabia or Iran, the list is actually growing of countries that are looking to Africa as a source of access to land when arable land is becoming much more scarce on this planet," said Woods.
The organizers said they hoped Washington policy makers would be in the audience so they would better understand the need to work for the protection of local and diverse food production around the world, including Africa.
The movie was also recently shown in the U.S. state of Oklahoma, where Bieleu said some small farmers even cried, saying they had no idea this was happening to their counterparts in Africa.