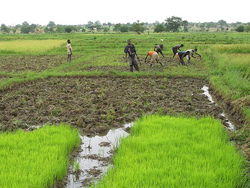 Ghana News Agency | 3rd August 2011
Ghana to become leading rice producer in West Africa
Fievi (V/R), Aug. 3, GNA – Ghana is poised to increase rice production from 20,000 metric tonnes to 200,000 metric tonnes by 2015 to become the highest producer in West Africa.
Mr Daniel Amelorku, District Chief Executive of South Tongu District in the Volta Region said the district had provided 1,000 hectares of land to
Global Agri-Development Company
(GADCO) and would be expanded to 4,000 hectares within four years to achieve the target.
He said provision of necessary machinery and promotion of Private Public Partnership policy (PPP) had been intensified to enable the country to achieve the target to reduce rice importation.
Mr Amelorku announced this when officials of Ministry of Finance and Economic Planning (MOFEP) visited the Fievie Rice Project in the Volta Region on Tuesday.
The project is a 30-year lease of 1,000 hectares farm land granted to GADCO to develop rice farm. GADCO started operations in January this year and had so far planted 700 acres. It is expected to harvest about 40,000 bags by the end of August this month.
The project is a partnership agreement with the local community and the South Tongu District to undertake rice production to create employment for the people.
Ghana currently spends about 450 million dollars annually on rice importation to augment local demand.
The country's self-sufficiency in rice production stands at about 30 per cent, leaving a short fall of 70 per cent.
Mr Amelorku said the project was an initiative by the district to reduce unemployment among the citizenry, adding that some percentage of the yields would be given to the community.
Mr Toks Abimbola, Chief Executive Officer of GADCO, said the company opted to work in Ghana because of its political stability and government's contribution towards agricultural development.
He said the region had huge and fertile lands, which were very good for production of rice and other agricultural products hence their decision.
Mr Abimbola said his outfit would soon introduce a Community Private Partnership that would build capacity among small scale farmers in the community to become entrepreneurs.
He said the project would start with five hectares of land to ensure small scale farmers in the community become credible distributors of their own products.
Mr Abimbola said the records of the daily harvest were very encouraging, adding that quality of the rice was very good.
"We have harvested about seven hectares of land amounting to 8,000 tonnes in within two days and we hope they will not be broken to meet international standard" he said.
He commended the leadership of the community for their participation and contribution towards the success of the project.
Mr Kofi Attakli, Project Analyst at MOFEP, expressed the hope that the local rice farmers in the community would learn the best methods of rice farming.
GNA