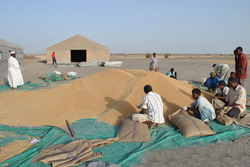 Wafra harvested wheat, Sudan
Citadel Capital press release

Wafra concludes first commercial wheat harvest in Sudan
July 04, 2011
Wafra, Citadel Capital's Platform Company for investments in the Sudanese agricultural industry, released today details of recent operational milestones including the conclusion of its first commercial wheat harvest in Sudan's White Nile State.
"We are delighted to report that Sabina, the Wafra Portfolio Company that is developing 254,000 feddans (263,652 acres) in northern Sudan, has completed its first commercial wheat harvest," said Raouf Tawfik, Principal at Citadel Capital, the leading private equity firm in the Middle East and Africa with US$ 8.7 billion in investments under control. "The 3,000-feddan (3,114 acres) harvest was taken to market at a price of US$ 450 per ton, more than US$ 100 per ton above our target."
Of the agricultural land that Sabina is developing, 37 kilometers are located directly on the Nile approximately 300 kilometers south of Khartoum.
Sabina has so far developed 9,500 feddans (9,861 acres) for the next cotton crop, which is currently being planted for harvest in December. Under the terms of its agreement with the local government, an average of 22% of the total developed land is earmarked for the local community. However, of the 9,500 feddans of cotton to be harvested in December, 5,000 (5,190 acres) are earmarked for delivery to the local community with the balance for Sabina. Sabina has opted to fast-track development of the land for the local community this year to enhance the livelihoods of local residents and build strong community ties.
In the south, Portfolio Company Concord (formerly known as SEAC) has developed 3,500 feddans (3,633 acres) and is currently preparing the field for the summer crop, all of which is expected to be sold to the local market. The entire area will be planted with maize and ready to seed at the onset of the rainy season by the middle of this year.

In total, Concord is developing 250,000 feddans (259,500 acres) of land in the south near the city of Bentiu in South Sudan's Unity State (Welayet Al-Wehda). The land is located approximately 600 kilometers north of the South Sudan capital of Juba.
"Wafra continues to capitalize on its first mover advantage in this very promising market," noted Tawfik. "The management team is confident that cultivation will continue as planned with major improvements on yield per acre in the coming months."
To date, the equity invested in Wafra stands at US$ 44.3 million in addition to US$ 9 million of debt; Citadel Capital's targeted ownership is 37.5%. Plans are currently underway to fast-track development at Wafra. Instead of the previously agreed upon target of 13,500 feddans (14,013 acres), cultivation is expected to reach 30,000 feddans (31,140 acres) next year.
—Ends—
Citadel Capital (CCAP.CA on the Egyptian Stock Exchange) is the leading private equity firm in the Middle East and Africa. Citadel Capital focuses on building regional platforms in select industries through acquisitions, turnarounds, and greenfields executed via Opportunity-Specific Funds. The firm's 19 OSFs now control Platform Companies with investments worth more than US$ 8.7 billion in 14 countries spanning 15 industries, including mining, cement, transportation, food and energy. Since 2004, Citadel Capital has generated more than US$ 2.2 billion in cash returns to its co-investors and shareholders (on investments of US$ 650 million), more than any other private equity firm in the region. Citadel Capital is the largest private equity firm in Africa by PE assets under management (2006-2011 as ranked by Private Equity International). For more information, please visit www.citadelcapital.com.
For more information, please contact:
Ms. Ghada Hammouda
Head of Corporate Communications
Citadel Capital (S.A.E.)
Tel: +20 2 2791-4440 • Fax: +20 22 791-4448
Mobile: +20 16 662-0002