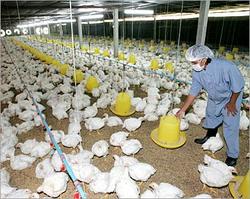 The Peninsula | 28 July 2011
Qatar plans 70pc self-sufficiency in food by 2023
DOHA: In two years from now, Qatar will be able to meet at least 20 percent of its eggs and poultry requirements with local production as part of the National Food Security Program (NFSP) which aims to raise self-sufficiency in food production to 70 percent by the year 2023.
Some 30 sqkm of land has been earmarked in the country to set up modern poultry farms and related facilities where some 17 million chickens and 90 million eggs could be hatched every year.
A prominent Omani poultry company has been hired as consultant and production is slated to begin in two years, Qatar News Agency reported yesterday.
Besides, under the NSFP, five basic food items are being targeted and they include white and red meat, rice, sugar and grains (including wheat). These produce are to be cultivated locally as well as overseas by Qatari companies, including Al Hassad Food.
Qatari companies would produce the above agricultural products in countries like Sudan, India, Australia, Argentina, Turkey and Brazil, among others.
Banks are being asked to provide easy and soft loans to locals to set up agricultural and irrigation as well as food processing projects, the QNA said as it also reported that the Deputy Emir and Heir Apparent, H H Sheikh Tamim bin Hamad Al Thani, yesterday issued the Emiri Decision No 45 of 2011 regulating the NFSP. The NFSP is to be launched in 2013 in a full-fledged way and slated to be completed in 10 years by 2023.