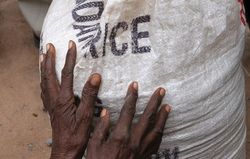 A newly arrived Somali refugee holds her bag of relief maize outside a distribution centre at the Dadaab refugee camp, near the Kenya-Somalia. Image by: STR / REUTERS
Sapa-AFP | 29 July, 2011
China rejects claims of Africa land buy-ups
China rejected claims by a German official that it has been buying up land in the drought-ravaged Horn of Africa, saying the allegations are "completely unfounded" and have "ulterior motives".
Germany's Africa policy co-ordinator Guenter Nooke said on Thursday that China has been involved in "large-scale land purchases" which have contributed to the devastating drought affecting the region.
"China has never had plans to buy land overseas and China has never purchased land in Africa," the foreign ministry said in
a statement sent to AFP
.
"The claim is completely unfounded and even has ulterior motives," it said, adding that China has sent 90 million yuan ($14 million) worth of food aid to drought-stricken countries in the Horn of Africa.
China said it had set up 10 agricultural demonstration centres in Africa and dispatched nearly 1,000 experts and technical staff to help countries there handle food safety issues which had been "warmly welcomed".
Nooke told the daily Frankfurter Rundschau that the Chinese investments were focused on farming for export which he said can lead to "major social conflicts in Africa when small farmers have their land and thus their livelihoods taken away".
China has poured money into Africa despite criticism from western states of Beijing's support for the hardline regimes of leaders such as Sudan's Omar al-Bashir and Robert Mugabe of Zimbabwe.
China-Africa trade soared more than 40 percent last year to $126.9 billion.