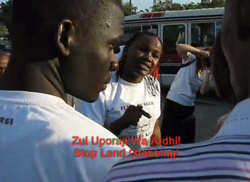 Kilimo Kwanza will contribute to the land alienation of small producers by large scale investors
The Guardian | 19th July 2011
Kilimo Kwanza: Knowledge among grassroots communities still scant
By Gerald Kitabu
This week Gerald Kitabu talked to the Executive Director of The Land Rights Research and Resources Institute (HAKIARDHI) Yefred Myenzi who sheds light on the participation of grassroots communities in Kilimo Kwanza. Excerpts:
QUESTION: Your organization commissioned a study to researchers of the University of Dar es Salaam on the participation of grassroots communities in Kilimo Kwanza. What were your findings?
ANSWER: It was established that small-scale producers at grassroots communities who constitute almost 80 per cent of the Tanzanian population were not consulted to give their views. Therefore, the design of Kilimo Kwanza represents the views and interests of business communities and not the views of small producers, not even their networks like MVIWATA and many others who, if were fully involved from the planning stage, would make a big difference in the initiative and the economic situation of the country.
The study also found that chunks of land that are being targeted for Kilimo Kwanza belong to the rural-based small producers and that they are likely to lose it to the large-scale investors under the guise of Kilimo Kwanza as the pillar number five advocates for amendments of the Village Land Act No. 5 of 1999 to facilitate acquisition of land for large scale investment.
If the amendments are effected, they will definitely touch the village land that is not currently fully used by the villagers but is their reserve for future use? The current Land Act number of 1999, in its second section regards the unoccupied and un utilized village land as part of the general land category and thus liable of alienation from villagers. This will eventually result into landlessness for villagers.
Q: Kilimo Kwanza is in its second year, if villagers were not fully involved, how do they participate?
A: At present they are out of catch, which means they are excluded from the plans, subsidies and benefits, because such opportunities require one to have collateral like land titles which, most of them do not have. Therefore, they cannot access loan schemes from financial institutions. In my view, a big portion of small producers has been left out of the production process because they are not targeted as it is being propagated by politicians.
It is estimated that between 70-80 per cent of small-scale producers will not benefit because of stringent conditions in accessing credit from commercial banks and the high interest rates that are charged by those banks. Their participation is thus limited within the framework of ASDP implementation and especially DADPS that are primarily designated for rural setting. The political dramatisation and amplification of Kilimo Kwanza that is vivid in the media is not equally reflected at the grassroots levels where majority small-scale farmers are based.
Q: You have talked of lack of access to financial institutions, how do they manage farm inputs?
A: This is another area that was in our research findings. Actually, the cost of farm implements such as agriculture supplies and services are very high to most farmers. Worse still, even the distribution is in the hands of private dealers who are driven by the profit motives. According to the recent presentation by SUMA JKT, the army institute that is involved in a commercial vending of such implements, a power tiller is sold between 8 to 10m/- depending on the horse power, tractors range between 40-50m/-, and so forth. In that situation, none of the small-scale farmers can afford such huge cost.
Q: What is the position of small scale producers at present?
A: Most of them practice the so-called business as usual. They act as if there is no Kilimo Kwanza for it does not add value to their daily farming and even subsistence. The new Agricultural Development Bank is yet to start whereas the Tanzania Investment Bank loan window does not make any difference to other commercial banks for their rates are high. In terms of security of tenure, small producers still lack security of tenure on land for the vast majority of land in the village land category is not surveyed, not registered and titled.
This adds to the vulnerability of the small producers on land ownership. According to the research, it was established that Kilimo Kwanza will contribute to land alienation of small producers from large producers because pillar number 5 of Kilimo Kwanza provide for amendments of Village Land Act No 5 of 1999 so that land can be available for large scale investors, which means land will be shifting hands from small scale producers to large scale producers who are free to produce and sell whatever they want. One of the effects is that land will be concentrated into fewer hands of investors who have no interest about the livelihood of the communities but driven by their profit motives.
Q: Assessing two years of Kilimo Kwanza, what can you say about the issue of knowledge among small-scale farmers?
A: The issue of knowledge among many grassroots communities is still skewed. There is a gap between the bureaucrats, politicians, those in power, and small-scale producers. This is because the later has more knowledge about Kilimo Kwanza than small-scale producers, and without knowledge of what they are required to do, they can't fully participate.
However, a lot of work has to be done. For example there must be adequate financial allocation to farmers if we think that agriculture is still the backbone of our country. There is also need for more accountability. Example, extension and supplies of agricultural officers must be accountable and responsible to the communities rather than staying in office.
If you look at the number of extension officers is small and even those who are there, they are not supported in terms of transport, physical and financial resources which are essential for transformation of agriculture. However, supervisory and coordination systems are in place but not effectively working.
Q: When you assess the role of Suma JKT in Kilimo kwanza, what do you learn?
A: Although they are tasked to provide agricultural inputs like power tillers and tractors, their role leaves a lot to be desired. For example, if you remember, in the past, they used to have very big farms like Mafinga in Iringa, Makutopora in Dodoma, Buhemba in Musoma, Mlale and so on. I thought that because they won a tender to provide agricultural inputs, they should have combined with their traditional role of farming, but to our surprise, that is not the case.