19-7-2011, Vía Campesina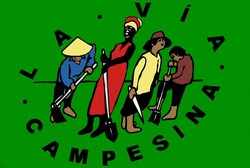 Durante la semana del 11 al 15 de julio de 2011, miembros de la Vía Campesina participarán en el Comité de Seguridad Alimentaria Mundial en las negociaciones sobre las Directrices Voluntarias sobre la Gobernanza Responsable de la Tenencia de la Tierra, los Recursos Pesqueros y Forestales que se están celebrando en la sede de la FAO en Roma. La Vía Campesina forma parte del Mecanismo de la Sociedad Civil que ha sido recientemente incluido como participante en el Comité de Seguridad Alimentaria Mundial junto con los estados miembros de la FAO, las instituciones internacionales y el sector privado. Estas son las negociaciones finales de las directrices que se espera que sean adoptadas por el CSA en octubre. Las directrices cubren temas como la tenencia de la tierra, la reforma y la redistribución, junto con los mercados y la inversión, elementos que tienen un fuerte impacto sobre los campesinos, los agricultores a pequeña escala y los pueblos indígenas y rurales de todo el mundo.

La Via Campesina recibe con alegría esta oportunidad para participar en el proceso de negociaciones de las Directrices voluntarias para una gobernanza responsable de la tenencia de tierras, pesca y bosques, y reafirmamos nuestro compromiso para reforzar dicho proceso, con el fin de que las Directrices permitan crear un marco claro para la protección de los campesinos, pequeñas familias propietarias agricultoras y ganaderas, y las comunidades que viven y trabajan en el campo, así como la protección de los derechos de propiedad y la protección de la personas ante el acaparamiento de tierras.
En este sentido, instamos fervientemente a todos los interesados que tomen en consideración los puntos siguientes:
1) Las Directrices deben hacer especial hincapié en la necesidad imperante de introducir una reforma agraria genuina en los programas de redistribución de tierras, especialmente en zonas con una elevada concentración de la propiedad, mezclada con inseguridad alimentaria. Las Directrices deben proporcionar a los Estados la orientación adecuada para abolir el acaparamiento de tierras en el mundo. Las Directrices deben apoyar la aplicación plena de los compromisos adoptados en la Conferencia internacional sobre reforma agraria y desarrollo rural de la FAO (ICARRD). La soberanía alimentaria requiere la capacitación de los productores locales de alimentos, hombres, mujeres y jóvenes, que tengan acceso y control total sobre los recursos de producción alimentaria. Las Directrices deberían promover reformas políticas a todos los niveles, local, regional, nacional e internacional, con el fin de acabar con las adquisiciones de tierras a gran escala y de promover la autonomía económica a largo plazo y la autodeterminación de los campesinos de todo el mundo. Reafirmamos que la adquisición de tierras por parte de empresas privadas no soluciona los problemas inminentes relativos a la pobreza, el hambre y la necesidad de una reforma territorial, sino que pone todavía más en peligro el sustento, ya de por sí frágil, de las comunidades rurales.
2) Las Directrices deben reconocer y apoyar plenamente la importancia crucial de la agroecología basada en las familias y los campesinos, como solución principal para erradicar el hambre. Las empresas no pueden alimentar a la población y a los accionistas codiciosos a la vez. Los campesinos con un compromiso a largo plazo y estabilidad con la tierra contribuirán a lograr niveles mayores de soberanía alimentaria, mejores resultados medioambientales, comunidades locales más resistentes y el traspaso intergeneracional, indispensables para el bienestar a largo plazo de la humanidad. La capacidad de producción de los campesinos se ve constantemente atacada por el desmantelamiento político de mecanismos de protección con una larga tradición y por la estrategia adoptada por los Estados consistente en alcanzar el "crecimiento económico a toda costa". Las Directrices deben denunciar claramente dicho enfoque determinante para el desarrollo.
3) Las Directrices contienen una referencia explícita a los instrumentos de derechos humanos internacionales obligatorios y, por ello, se debería respetar el lenguaje acordado a nivel internacional cuando se presenten conceptos relativos a los derechos humanos, con el fin de evitar una interpretación desvirtuadora de los estándares existentes. Con el reconocimiento y la reafirmación de que se deben garantizar, sin discriminación alguna, los derechos humanos reconocidos por el derecho internacional a los campesinos, recordamos a todos los gobiernos que los tratados y convenios ratificados deben transponerse al ordenamiento jurídico nacional.
4) Las Directrices deben enfatizar que hay que erradicar el hambre, dado que es el resultado directo de una política viciada, la falta de compromiso por parte de las naciones más ricas y la falta de barreras en la promoción empresarial y la desregulación económica.
5) Es necesario tratar el cambio climático y las soluciones falsas que agravan la crisis alimentaria. Las Directrices deberían denunciar explícitamente las soluciones falsas dadas al cambio climático que legitiman el acaparamiento de tierras. El uso de tierras de producción de alimentos a gran escala por parte de empresas para cultivar agrocombustibles es, en cualquier caso, un acto en contra de toda ética, pero, además, los agrocombustibles son una solución falsa para mitigar los efectos del cambio climático y agravan la dependencia mundial de los combustibles fósiles, además de repercutir negativamente en la crisis climática.
--
La Via Campesina
Via Campesina is an international movement of peasants, small- and medium-sized producers, landless, rural women, indigenous people, rural youth and agricultural workers. We are an autonomous, pluralist and multicultural movement, independent of any political, economic, or other type of affiliation. Born in 1993, La Via Campesina now gathers about 150 organisations in 70 countries in Asia, Africa, Europe, and the Americas.
International Operational Secretariat:
Jln. Mampang Prapatan XIV no 5 Jakarta Selatan 12790, Indonesia
Tel/fax: +62-21-7991890/+62-21-7993426
Email:
[email protected]