The Analyst | 14 July 2011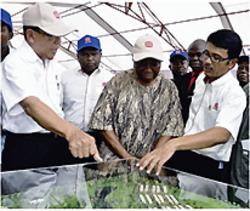 Sime Darby executives briefing Liberia's Vice President Joseph Boakai on the company's planned palm oil plantations.
Citizens from more than 15 towns and villages near Sime Darby Plantation in Grand Cape Mount County have threatened that the company would face stiff resistance if it intends any further extension of its concession.
The citizens are against the expansion of the plantation and said it should not extend beyond its current position.
In a statement crafted at the end of a one-day Participatory Rural Appraisal (PRA) workshop organized by Green Advocates International in Medina, Grand Cape Mount County, the citizens said they have suffered undue hardship since the arrival of BF Goodrich, Guthrie and now Sime Darby into their communities.
According to them the lands on which BF Goodrich, Guthrie Rubber and Sime Darby Plantations have been located belong to them as part of their ancestral heritage and should be returned to them.
The citizens claimed that the negotiations ceding of the lands to BF Goodrich, Guthrie and now Sime Darby was done outside of their prior informed consent.
The citizens are calling on government to in the name of genuine development and self-reliance, ensure the return of their land.
They are also asking human rights organizations and their international partners to assist them repossess their ancestral lands.
The Grand Cape mount citizens further explained that they are disturbed by the increasing seizure of their ancestral lands by government which began in the mid 1950 and 70 and today to privately grow rubber and palm oil outside their prior informed consent.
They noted that the action of government has relegated them to a state of near-beggars.
According to them, concessions owners have repeatedly evict them from their ancestors' land thus displacing their communities.
The citizens of Grand Cape Mount also indicated that they have been denied access to forest-related products and farmland, which support sustainable livelihoods due to the presence of the plantations.
"We are also concern and greatly disappointed over the continuous lack of protection and respect for our distinct ways of life, traditions and customs by these concessions," the citizens said.
They claim that current escalating situation, if left untouched, has the potential to continuously impose undue hardship on our population and the generation yet unborn.
Supporting the citizens' position Green Advocates International Senior Campaigner Alfred Lahai Brownell said "Land is life.
He noted that it is disturbing that government would uproot poor rural communities from the only thing bequeathed to them by mother's nature, their land.
"Government cannot rely upon Sovereignty to extinguish the property rights of poor rural communities," he noted. Cllr. Brownell indicated that customary right is sufficient title under Liberia law and that is not an inferior title and must be protected by the Government.