The Land | 01 July 2011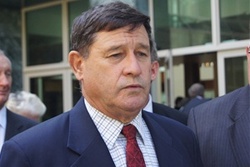 Jacob Cobb, Minister for Agriculture and Food Security. Photo: The Land
SHADOW Minister for Agriculture and Food Security, John Cobb, said revelations a Chinese mining giant has bought out farm properties on the Liverpool Plains is more evidence that the Gillard Government has been asleep on the job and that Australia's foreign investment rules are outdated.
"Had the government done what the Coalition warned her to do months ago, she would not be asking her Assistant Treasurer to investigate the loopholes in the foreign investment regulations now," Mr Cobb said.
"In March, the parliament passed a motion I introduced regarding foreign ownership of agricultural land and agribusiness.
"It requires the government, through the Australian Bureau of Statistics and ABARE, to collect much needed information and analyse the extent and impact of foreign ownership in Australian agriculture.
"It is because of the difficultly of monitoring purchases of small parcels of land that we put guidelines forward to the Parliament. Had the Prime Minister and the Minister acted on this months ago we would not be in this predicament."
Chinese mining company Shenhua Watermark Coal carried out a two year spending spree in 2009 and 2010, investing $213 million in 43 farms outside Gunnedah in northern NSW for mining exploration.
Currently the Foreign Investment Review Board (FIRB) only investigates investments totalling more than $231 million. In most cases this would never activate a review of land purchases as it would be a far to higher price for some agribusinesses.
"Under Labor, Australia has seen a ten-fold increase in foreign investment in the last three years. There has been a marked change in the activity by foreign companies from investment in agriculture to ownership and control of supply lines," said Mr Cobb.
"To let a Chinese government controlled company take control of some of our richest food growing areas, let alone without triggering consideration by the FIRB, is too greater risk for our nation.
"Labor dodged the issue of foreign investment until the Coalition forced the government's hand - now it seems we are too late to save vast tracts of prime NSW land.
"We cannot afford to let foreign companies purchase our land and agribusinesses, mine our resources and take them out of our country. We need to ensure our national interest comes first."