China Daily 1 July 2011
By Liu Jie
Food and beverage company plans to establish agricultural facilities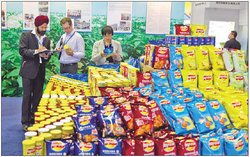 A PepsiCo Inc booth at an exhibition in Beijing. The company is building a new research and development center in Shanghai, which will include a pilot plant and will serve the entire Asian region. Photo: A Jing / for China Daily
BEIJING - PepsiCo Inc, the world's second-largest food and beverage company, will continue its investment in China's agricultural sector.
The move is designed to provide a secure supply of raw materials, protect the local environment and promote cooperation between the company and Chinese farmers.
Indra Nooyi, chairman and chief executive officer of PepsiCo, told China Daily that the US company is planning to establish new farms in China.
She also said the introduction of more environmentally friendly technologies and equipment to farms in China is always a consideration for the company.
At present, PepsiCo has seven farms in China; three are in the Inner Mongolia autonomous region, and the others are situated in Hebei province in the north, Hubei province in central China, Guangdong province in the south and in the Guangxi Zhuang autonomous region.
The farms are all close to PepsiCo factories, and their geographical spread allows the company to rotate production between them, according to the growing seasons, climate, and soils of the different locales.
"PepsiCo is a food company, we use potatoes, we source apples, orange juice and other supplies for our operation," said Nooyi. "We are (also) a big agricultural company in the sense that we teach farmers how to improve their techniques and give them seeds, then we buy the crops from them."
In cooperation with local governments, PepsiCo provides capital and technological training and introduces environmentally friendly, technically advanced machinery to the farms.
It also establishes systematic and standardized cultivation procedures.
By offering seeds, technologies, equipment and management, the company can guarantee the safety of raw materials.
"We are very good for the countryside, because it (the farm system) improves yields and teaches people to farm in a sustainable way," Nooyi said.
According to Tim Minges, chairman of PepsiCo China, the company uses a "contract farming" system. That means it signs contracts with farmers and then provides funding and equipment directly. The farming activities are then conducted on an independent basis. Crop orders are fulfilled when the produce is delivered to the company's purchasing stations, where payment is made upon receipt of the goods, all of which helps to reduce the risk to farmers and increase motivation.
The Fortune 500 company said that its technologies and equipment help to reduce the volume of water used for irrigation by 50 percent. Meanwhile, the use of electricity rather than diesel cut CO2 emissions by 4,165 tons in 2009. In addition, more than 10,000 rural households have benefited, earning more than 300 million yuan ($46 million) in the process during 12 years.
The efforts in the agricultural sector follow an announcement by Nooyi in May 2010 to invest an additional $2.5 billion in China over three years. That came after a previous investment of $1 billion, which was announced in November 2008.
Money is put into the construction of new plants, the establishment of research and development (R&D) facilities, agricultural expansion and initiatives in branding.
PepsiCo is building a new R&D center in Shanghai, which will include a pilot plant and serve the entire Asian region."Everyone has R&D centers, but this is different. It has a pilot plant, so you can have an idea in the morning and you can have a product in the afternoon," said Minges. "You make the product and then take it to consumers and let them try it."
The facility will help the company shorten the time between R&D and retail, a competitive factor in the fast-moving industry, according to Zhao Yong, an analyst at Haitong Securities.
PepsiCo's arch-rival Coca-Cola Co is also aggressive in China with a three-year $2 billion plan announced in March 2009. Its CEO Muhtar Kent said at the end of last year that the company will add more investment in China.
According to the market research company Euromonitor International, sales of soft drinks, including soda, juice and bottled water, almost doubled to 270 billion yuan in China between 2006 and 2010.
Euromonitor's data show that at the end of last year, Coca-Cola held 17 percent of the Chinese market. Tingyi Holding Corp, which has a brand called Master Kong, had 13 percent, while the Hangzhou-based Wahaha Group Co Ltd had 7 percent. PepsiCo was fourth with 6 percent.
"PepsiCo has focused more on food, and so the business strategies of the two companies (Coke and PepsiCo) have been somewhat different so far," said Zhao.