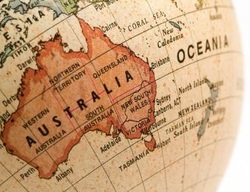 Nationals Senate Leader Barnaby Joyce warns that too much foreign ownership could lead to a "clash of sovereignty" and diplomatic tensions with a range of foreign governments, including China.
The Australian | July 04, 2011

Joe Kelly

THE peak farmers group has warned that increased global demand for food is leading to a new wave of foreign investment in Australian agriculture that could stifle competition and compromise national food security.

The warning was backed by a leading food security authority and Nationals Senate Leader Barnaby Joyce, who warned too much foreign ownership could lead to a "clash of sovereignty" and diplomatic tensions with a range of foreign governments, including China.

National Farmers Federation president Jock Laurie warns in an opinion piece for The Australian today that foreign investment has entered a new phase over the past four years. He says there is potential for foreign state-owned enterprises to undercut Australian farmers by using their land acquisitions to ship produce back to feed their home populations.

"This raises the question of transparency in the supply chain, potentially jeopardising competition at the farm gate and depressing the local market. At an extreme level, this could also lead to Australia's own food security goals being compromised," he writes.

Senator Joyce said yesterday that he had "serious issues" with investment from any foreign state-owned enterprise, because it could lead to diplomatic fallout "one thousand" times greater than that with Indonesia over the ban on live cattle exports.

"You get a clash of sovereignties. You might take an individual to court or a corporation to court. But I think you'll be very concerned if you take a country to court especially when that country is far bigger and can choose to be far nastier than the one you live in," he said.

"When the person you're taking to court has nuclear weapons, you better be a little bit cautious about what you say next."

Canberra moved last November to map out foreign ownership of agricultural assets, commissioning the Australian Bureau of Statistics and the Rural Industries Research and Development Corporation to conduct a study.

Mr Laurie said he hoped the review would shed light on the "intent" behind foreign acquisitions and demanded government assurances foreign purchases would not negatively affect farm-gate prices for producers.

"Australian farmers thrive on competition and we want to make sure that anybody who wants Australian farm produce enters the market to provide added competition," he said. "Most people were reasonably comfortable with the level of foreign investment coming in and coming out. But things have now changed."

Food security expert and author Julian Cribb backed the NFF's concerns. "China is trying to shore up its own position. It's using its new wealth to buy up resources, which includes food. And yes, it might imperil our food security," he said. "If farmers are getting screwed in the marketplace for the price paid for their produce, they have less money to invest in better and more sustainable farming systems."