IPP Media | 16 June 2011
By Mickael Haonga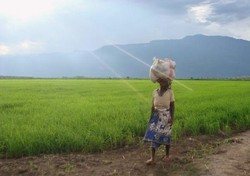 Farmer in the Kilombero Distric, Tanzania. Source Seed Capitalist
Q: How did KPL come into this business of farming?
A: I first came to Tanzania in 1987 on a Rotary Club International scholarship at the University of Dar es Salaam. In 1991 I pioneered the resurrection of Tanzania Forest Conservation Group, founded in 1985 but remained dormant. The TFCG (www.tfcg.org) then started its first village forest conservation projects in Mufindi and Lushoto, with the funds I raised in the US.
Today, TFCG is one of Africa's most successful community conservation organisations, working in 140 villages in the Udzungwa, Uluguru, Nguru, Rubeho and Usambara Mountains, and in coastal forests in Ruvu and Lindi. I continue to be TFCG committee member and president of African Rainforest Conservancy (www.africanrainforest.org) in New York, while retaining the chairmanship of African Rainforest Trust in London.
Throughout the 1990s, I was a journalist, reporting for the Time at Nairobi bureau and the Financial Times of London. I am also the author of two novels published in the US, Germany and Poland.
In 2005, I started Agrica Limited to develop commercial agricultural projects in East Africa. Its mission is to set the standard for sustainable commercial and smallholder agriculture in the region. Through renewable energy, minimum-impact cultivation and transformative smallholder farming, the company's projects boost food production and reduce poverty in areas of chronic underinvestment.
The investors include Norfund, Norwegian Development Bank and Capricorn Investment Group, a multi-billion dollar fund based in the US whose mission is commercial returns and positive social and environmental impact.
Kilombero Plantations Limited, a joint venture between Agrica Tanzania Limited and Rubada (with a minority share) is Agrica's first commercial farm.
Q: How would you describe KPL's performance?
A: Agrica signed the contract with Rubada for the purchase of Mngeta Farm, at the same price that Kapunga and Mbarali had recently been privatised by the PSRC, in May 2006. While Kapunga and Mbarali were already functioning, Mngeta farm was completely derelict and had no irrigation system.
Agrica advanced Rubada funds from the purchase contract to take the tenant to the High Court and prepare the asset for sale.
It then took a couple of years to complete the purchase of the farm, during which Rubada decided that they would like to participate in the project and so the purchase deal was altered to include them as equity partner.
These long delays are typical of agricultural investments in Africa and serve as a great obstacle to serious investment.
In October 2008, KPL began full operations, but there was very little time to prepare for the first rice crop. It therefore first equipment and re-cleared 2685 ha. The heavy rains which followed flooded the entire farm making us to plant only 2013 ha. Only 1,983 tons of paddy were harvested, about 0.98 tons per ha, which was 40 per cent below the initial target of 1.75 tons per ha for the 2008/09 season.
Yields improved in the 2009/10 season with yields of 3,895 tons of paddy or about 1.33 tons per ha, but the farm was still 20 per cent below its target.
In the current 2010/11 season, it appears that KPL will be above target for the first time. With the 4,150 ha planted, as of June 3, a total of 4273 tons has been harvested off of 1,068 ha—an average of 4 tons per ha. This is equivalent to 62 per cent above the season target of 2.5 tons per ha.
At least 4 tons per ha is considered the maximum average achievable over a large-scale rain-fed farm. Blocks of 25 ha produced an average of 6.9 tons ha.
In the current season, KPL also introduced overhead irrigation on 40 ha to provide supplementary water to the rain-fed crop. In July of this year, the firm will expand the overhead irrigation to 215 ha for its first dry-season rice cropping trial. It is anticipated that over time yields of 7 tons per ha can be achieved with irrigation. In addition, irrigation will allow KPL to have 2 rice crops per year instead of one. Ultimately, with 4,000 ha of irrigation, KPL hopes to produce 53,000 tons of paddy annually.
Q: And how do you pick your board?
A: The KPL board members include whoever holds the post of director general of Rubada, who is currently Aloyce Masanja. The firm's board also includes the general manager, Graham Anderson, and two directors from the firm, Agrica CEO who is myself, and Agrica chief financial officer John Paul Whyatt.
Agrica board members include Carter Coleman, John Paul Whyatt and representatives of investors. Representing Capricorn are Ion Yadigaraglu and Alan Chang of the US. Representing Norfund is Elin Ersdil of Norway. The Agrica board also includes a member with profound agri-business experience, Alan Boyce of the US who founded AdecoAgro, a company which 330,000 ha in South America and is listed on the New York Stock Exchange.
Q: What is KPL employment capacity?
A: At Mngeta, where there were previously no opportunities for cash employment, KPL has created 177 permanent jobs, paid above the national minimum wage, and up to 725 casual jobs for weeding, occasional hand harvesting and general activities who are also paid above the national minimum wage. The monthly injection of the cash payroll has transformed the area, leading to the establishment of many new small enterprises such as shops, hotels and cafes.
Q: What are the challenges you are facing?
A: The main challenge is the poor transport infrastructure. The Kilombero Valley holds tremendous potential for both commercial and smallscale agriculture. However, few investors are as bold as Agrica and, in all likelihood, no other serious, well-financed company will invest the USD70m required to develop a farm such as KPL's Mngeta, unless an all-weather road is constructed.
This year, following heavy rains, for more than one month, the road was closed at harvest time when KPL needs a steady stream of diesel tankers and other inputs to carry on operations. At one point, the entire diesel was coming in drums on trailers pulled by tractors from Ifakara, 85 km away. Even these tractors would get stuck and sometimes took 24 hours to make the journey.
Agrica calls these obstacles the "farm-at-the-end-of-a-long-dirt-road" issue. Areas of South America and Asia are much more conducive to investment because of good roads and electricity infrastructure.
Also, the time required for ordering and transporting large-scale farming equipment means that a firm must order a piece of equipment 12 months in advance if it is to assure that the equipment will be on the farm when it is needed. Many times, KPL has had planters, sprayers, tractors and combine harvesters arrive after they the season is completed.
Another challenge is Tanzania's tax regime. If Tanzania is going to become an agricultural power-house, it must reform its tax regime to make Tanzania competitive with the great agricultural production areas of the world.
For example, the high duties on diesel used for commercial agriculture should be eliminated for genuine and honest large-scale investors. Farmers in Tanzania pay 5 times the price that American farmers pay for diesel.
Also, importantly, import duties and VAT need to be eliminated on spare parts for agricultural equipment. Spare parts are like raw materials in agricultural production. They cannot be substituted for non-agricultural vehicles or machinery. Tanzania is already a high-cost environment for agriculture. These unfair duties only make the country less competitive.
The District Crop Cess of 5 per cent of the crops' value is potentially crippling a new large-scale farm which takes up to 7 years before it becomes profitable. While Crop Cess may be the only way to tax smallholder farmers, it is unfair to commercial farms which pay corporate tax. Crop Cess is double taxation.
Finally, to become internationally competitive, Tanzania should zero-rate agricultural products for VAT purposes. By simply charging no VAT on agricultural products, commercial farms are not able to reclaim the VAT they pay the government. Therefore commercial farms are at a great disadvantage to businesses and industries which are able to reclaim VAT.

Q: What are your plans?
A: KPL is steadily progressing towards its long-term plan of introducing large-scale irrigation at Mngeta Farm. At a cost of USD750, 000, starting in July, 215 ha will be put under overhead irrigation to prove that rice can be grown in the dry season in the Kilombero Valley. After dry season trials in 2011 and 2012, KPL plans to build 4,000 ha of overhead irrigation.
Q: How is your firm faring in terms of corporate social responsibility?
A: Rubada misrepresented the number of people occupying the area of the farm under the title deed. In Oct. 2008, KPL conducted a survey of the squatters, whom KPL calls Project Affected Persons, and determined some 2238 PAPs were either living or farming on the property.
KPL followed the World Bank guidance on the resettlement of the PAPs, which is meant to leave them better off than they were before, regardless of the illegality of their tenure. Therefore, KPL is spending about 900,000 million TSH in the resettlement process.
389 ha was excised from the farm and given to Mbasa sub village to avoid moving the majority of the PAPs. At the same time, KPL is building a school and teachers' houses and has constructed deep-pump wells for access to clean water, where before the villagers were relying on dirty, shallow wells.
Of the remaining PAPs, KPL has constructed 60 modern houses and two wells for people who have moved from the farm. In this new housing area KPL has constructed drains to protect the area from flooding in the rainy season. These 60 families were provided with 3 acres of land outside the farm, which was ploughed and prepared for planting in the current rice season. They were also provided with improved rice seed.
Some 150 families who lived in neighbouring villages were non-resident farming on the titled area. These 150 families were also provided with 3 acres which were ploughed and prepared for the current planting season by KPL. They also were provided with improved seeds.
If they were farming a larger area than 3 acres they were also provided with cash compensation for the area. All the PAPs, either resident or non-resident, were provided with cash compensation for fruit trees. To ensure that everyone was provided with land, photographs and GPS points were obtained for the new family farms outside the titled property.
In addition, each PAP family was provided with 100 kgs of KPL rice before the above compensation process started.