Dow Jones | 17 June 2011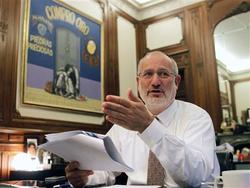 BUENOS AIRES --Chinese investment is flooding into Argentina as the Asian giant expands its global commodity hunt from the raw materials used in industry to the foodstuffs needed to feed its 1.3 billion citizens.
China's investment in Latin America hit $15.6 billion during the 12-month period through the end of May, nearly three times greater than the year-ago period, consulting firm Deloitte said in a report. Of that amount, Brazil received about 60% and Argentina close to 40%.
During the last three years, more than 70% of China's investment in the region went to energy and minerals, but farming is attracting more attention as the country seeks to fill its bowls from foreign fields.
China already buys the bulk of Argentina's soybean exports, its top crop and largest source of export revenue. Soybeans are mainly used as livestock feed in China, where meat consumption is rising along with personal incomes. At the same time, urbanization is shrinking the amount of arable land available in China.
Last week, China's largest farming company, Heilongjiang Beidahuang Nongken Group, inked a joint venture with Argentina's Cresud SA to buy land and farm soybeans.
Cresud is one of Argentina's top agriculture firms with control over more than 1 million hectares (2.47 million acres) of farmland that produce grain, cattle and milk.
Heilongjiang Beidahuang's chairman, Sui Fengfu, told Dow Jones Newswires in March that the company plans to buy 200,000 hectares of overseas farmland this year, and that Latin America is a key target. The company is already farming 2 million hectares of land outside China.
Heilongjiang Beidahuang is also spending $1.5 billion to lease and develop farms on 300,000 hectares in Argentina's Rio Negro Province. Over a five- to 10-year period, the company plans to grow wheat, corn, soybeans, fruits, vegetables and wine grapes for export to China.
The Cresud and Rio Negro deals appear aimed at avoiding a backlash against foreign ownership of farmland in Argentina. President Cristina Fernandez has introduced legislation limiting land purchases by foreign individuals and companies to 1,000 hectares in rural areas.
Heilongjiang Beidahuang's incursion in agriculture comes hot on the heels of heavy Chinese investment in Argentina's oil sector.
In February, Occidental Petroleum Corp. sold its local assets to China Petroleum & Chemical Corp. for $2.5 billion. Last year, China's Cnooc Ltd., in partnership with Argentina's Bridas Corp., agreed to buy a 60% stake in Pan American Energy from BP PLC for $7.1 billion.
China's hunger for raw materials has also led it into mining, with MCC Minera Sierra Grande SA, a unit of state-run China Metallurgical Group, buying the Sierra Grande iron mine in Rio Negro Province in 2006. The mine, which had been shuttered since 1991, made its first shipment of iron-ore concentrate to China in February.