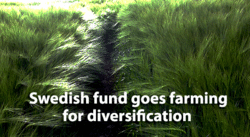 Top1000Funds.com | June 8, 2011
by SAM RILEY

The Second Swedish National Pension Fund (AP2) will invest $250 million in a joint venture with a US pension fund and financial services provider to buy farmland in the United States, Brazil and Australia.

AP2 has invested the money into a newly formed company that has joint venture partner, TIAA-CREF, as its majority shareholder and administrator.

TIAA-CREF already has extensive agriculture investments worth more than $2 billion, which include 400 farms, vineyards and orchards in the United States, Brazil, Australia and Eastern Europe.

Its agriculture investment strategy involves targeting growth crops that include corn, soybeans, sugar, apples, cranberries and wine grapes. It also manages investments with growers of pistachios and is one of the largest growers of almonds in the world.

The AP2/TIAA-CREF investment is to focus primarily on grain production.

"We anticipate that the newly established company's investments will promote productivity gains and long-term, well-managed and profitable agriculture that, in a sustainable manner, will help meet the growing global demand," AP2 chief executive officer Eva Halvarsson said.

A spokesperson for AP2 said the investment constituted one element in the fund's broader strategy to diversify its total portfolio.

In March AP2 formed a joint venture with the First Swedish National Pension Fund and a European finance group, Catella, to launch a $734 million real estate investment company.

Catella would manage the company that would look to buy property in major European cities, and compliment AP2's other real estate investments in Sweden, Denmark and Germany.

About 75 per cent of AP2's total capital is managed in-house. External managers handle its range of alternative asset investments.

At the end of 2010, AP2 had 18 per cent of its strategic portfolio invested in Swedish equities, 34 per cent in foreign equities, 37 per cent in a range of fixed income investments and 11 per cent in alternative investments.

Last year the fund made its first foray into forestry and farmland, buying assets in the United States and Australia.

In recent years, a number of pension funds have looked to real assets such as timber and farmland to provide an alternative investment that is not correlated to the markets.

These investments are also seen as a potentially attractive option in hedging inflation risk.

AP2's Halvarsson said the two joint venture partners shared a long-term outlook in terms of the investment and would ensure sustainability principles were followed.


AP2 CEO Eva Halvarsson
"This chance to co-invest with TIAA-CREF presents the Second AP Fund with a highly attractive opportunity," Halvarsson said.

"Like us, TIAA-CREF is a long-term investor. The organisation has considerable competence in, and experience of, this type of investment, while also sharing our values and principles."

AP2 and TIAA-CREF are signatories to the United Nations Principles for Responsible Investment and a spokesperson for AP2 said the fund carried out "comprehensive sustainability analysis of TIAA-CREF's guidelines, policies and processes".

TIA-CREF gained a substantial foothold in agriculture at the end of 2007 when it bought $340 million worth of farmland from the Teachers Retirement System of Illinois.

The portfolio included land used for growing oranges, almonds, apples and corn.

In 2010 TIA-CREF ramped up its agriculture exposure, buying an estimated 85 per cent of Westchester which managed farming assets worth more than $1 billion and covering 320,000 acres of farmland in the United States and Australia.

The agricultural investments occur within TIAA's General Account, an insurance company general operating account that is not available to investors.

The performance of investments in this general account supports TIAA's annuity guarantees, with this account primarily investing in corporate and government bonds, structured finance instruments, and real estate.