Asia Times | 10 June 2011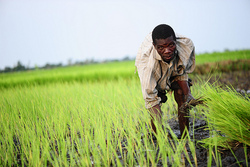 "If the government approves the proposal, we plan on taking 2,500 Bangladeshi farmers to work on 10,000 hectares in Uganda," says Nitol-Niloy chairman and BABO president Abdul Matlub Ahmed, who is also president of the India-Bangladesh Chamber of Commerce and Industry.. "BABO will provide them with living expenses for the first two years before harvest occurs. Primarily 20% of the produce will be provided to the farmers there, and BABO will bring back 80% of the produce. (Photo: Andy Kristian Agaba)
By Syed Tashfin Chowdhury

DHAKA - Nitol-Niloy Group and Bhati Bangla Agrotec of Bangladesh aim to invest an initial US$18 million to lease around 40,000 hectares of African land by the end of this year to grow foodstuff, most of which they will be obliged to sell in Bangladesh.
The two companies are joining a global phenomenon of land purchases by the private sector and governments in foreign territories, much of it in Africa.

Nitol-Niloy is reportedly in negotiations with Uganda to invest around $12.5 million to lease around 10,000 hectares of land, and Agrotec, a concern of the Al Falah Group in Bangladesh, is about to sign a deal with Tanzania to lease 30,000 hectares at an estimated investment of $5.49 million. Both deals hinge on the central Bangladesh Bank easing restrictions on investing overseas.

More than 200 other Bangladeshi companies are said to be interested in carrying out similar purchases; in Uganda alone there is a potential 220,000 hectares of land that could be bought. Kenya is also keen to let Bangladeshi businessmen invest in land there, according to Bangladesh Foreign Ministry sources.

About 75 entrepreneurs formed the Bangladesh Africa Business Organization (BABO) late last month to facilitate Bangladeshi investments to Africa and to press home their demands for amending Bangladesh's monetary policy, which at present does not permit money to be channeled out of the country for investment.

"Most of our members have visited sites in Uganda and found bright prospects for growing food grains there," said Nitol-Niloy chairman and BABO president Abdul Matlub Ahmed, who is also president of the India-Bangladesh Chamber of Commerce and Industry.

"We would like to request the government to allow entrepreneurs to invest in Africa without wasting time and encourage other businessmen to go for agribusiness at home and abroad to achieve food security," he told a May 29 press conference.

At the conference, Matlub also introduced the press to Mahmud Hasan, a Bangladeshi agriculturalist working in South Africa who has grown wheat on 160 hectares of land with four of his friends over the past seven years. Hasan and his friends are at present selling wheat at 10 takas per kilogram (35 US cents) in Uganda, while the price is 30 takas per kilogram in Bangladesh.

"The price differences prove that investing in agribusiness in Africa will prove fruitful," Matlub told the press conference, which was also attended by Abul Hossain, honorary consul of Uganda in Dhaka, Abul Kashem Ahmed, vice president of the South Asian Association for Regional Cooperation Chamber of Commerce and Industry, and other leading Bangladeshi business personalities.

"Leasing 10,000 hectares of land for at least 10 years in Uganda would cost around $12.5 million. Also open are 22 other projects in Uganda," Abdul Halim, secretary to the Nitol-Niloy chairman, told Asia Times Online.

Foreign Affairs Minister Dipu Moni on May 30 said during a roundtable discussion on the role of missions in agriculture and export growth in Africa, "There is an opportunity to cultivate land in Africa," while implying that fact-finding missions are still verifying the claims made by Bangladeshi businessmen.

After a meeting between BABO members and the Prime Minister Sheikh Hasina on June 2, Matlub said that as the prime minister did not have a "negative stance regarding investment in Africa" BABO is hopeful that the investments may occur by this year end. "It was the prime minister who had advised us to look into the agro-business prospects in Africa earlier this year," he said.

Earlier, on April 17, Commerce Minister Faruk Khan told a seminar that the government would amend its monetary policy soon to allow Bangladeshi businessmen to invest in agriculture, garment manufacturing and cotton spinning mills in Africa for the "food and cotton security" of Bangladesh.

"If the government approves the proposal, we plan on taking 2,500 Bangladeshi farmers to work on 10,000 hectares in Uganda," Matlub said on June 2. "BABO will provide them with living expenses for the first two years before harvest occurs. Primarily 20% of the produce will be provided to the farmers there, and BABO will bring back 80% of the produce. We are initially planning to sell rice at 28 takas per kilogram in Bangladesh." At present, the lowest price of rice in Bangladesh is 30 takas per kilogram.

"However, if the price of rice falls below 28 takas per kilogram in Bangladesh, we would be compelled to sell the rice to buyers other than the Bangladesh government," said Matlub.

Bangladeshi national news agency BSS on April 27 quoted Bhati Bangla Agrotec chief executive Mizanur Rahman Azad as saying, "Initially we will start farming 30,000 hectares of land with 4,000 farmers" in Tanzania from this month.

As each farmer would be paid 13,000 takas per month besides accommodation and food costs provided by Agrotec's clients, the initial investment would come to over $5.49 million.

Rice, pulses and corn could be cultivated in Tanzania, from which "corn can be sold to Tanzanian markets" while rice and pulses can be brought to Bangladesh, he said.

Companies like Agrotec and Nitol-Niloy are trying to fill up a gap of around 0.4 million tonnes of rice that Bangladesh imports annually despite a rice output at 31.6 million tonnes during fiscal year ending June 2010, according to the United States Department of Agriculture's Foreign Agricultural Service.

Syed Tashfin Chowdhury is a senior staff writer at New Age in Dhaka.