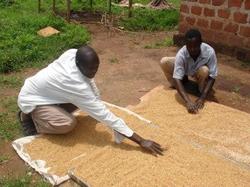 Drying rice in Uganda
Daily Monitor (Kampala) | June 3 2011

The government has distanced itself from reports that it offered land in thousands of hectares to two Bangladesh companies to grow food for export.

Mr Okasai Opolot, the commissioner for crop resources in the Ministry of Agriculture, said government has never allocated any area of farmland to Bangladesh investors and had no idea on the source of the allegations.

"That news is false," Mr Okasai told Daily Monitor recently. "I am surprised to hear about it because government has never arranged to give them land," he added.

On May 17, the BBC reported, that two Bangladesh companies leased thousands of hectares of farmland in Africa as part of their efforts to avoid future food shortages.

It further reported that companies have already signed deals to lease unused cultivable land in Uganda, Tanzania and Gambia. Under the plans, the Contract Farming System, the companies are expected to get at least 60 per cent of the produce.

In return, Bangladesh will train African farmers in rain-fed rice cultivation, seed conservation and irrigation.

Food security
"Basically this idea is mainly for proper management of our food security," Mr Wahidur Rahman, a senior Bangladeshi foreign ministry official, was quoted saying.

Mr Okasai, however, admitted that his ministry hosted some officials from the country who were on a mission to acquire land for agriculture, but no deal was made.

The commissioner said they (investors) asked for over 10,000 hectares of land to grow rice for export, which government didn't have.

"We frankly told them, we had no land. They insisted we sign a Memorandum of Understating with them, a request we also refused. We only accepted to sign minutes of the meeting we held," Mr Okasai said.

He said maybe the Bangladeshis approached the private sector for the said land. But even if the arrangement was done, the ministry would know.

The commissioner said the ministry clearly informed the investors that the country's priority was in acquiring technologies that can enable it be self-sufficient. in rice production, but not people who come to grow rice.

Currently, Uganda produces over 60,000 metric tonnes of rice, which the ministry says is sufficient for the country.