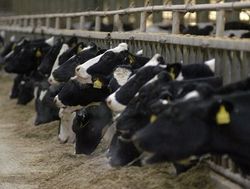 New Zealand Herald | 27 May 2011
The latest Chinese bid for the Crafar dairy farms is a key test for new rules on foreign ownership, reports Karyn Scherer.

It's been nearly two years since the banks that lent him more than $200 million pulled the plug on Allan Crafar's agricultural empire.

But exactly when Australian-owned Westpac, Dutch-owned Rabobank, and now Chinese-controlled PGG Wrightson Finance will get back their cash is anyone's guess.

With winter just around the corner, it's already fairly frigid in Reporoa, where Crafar and his wife Beth continue to live without a regular income.

"At least we've got the grandkids," is about the only cheery thing the once-indomitable farmer can find to say.

While many in the media appear to have lost interest in the family's plight, the sale of 13 dairy farms and three drystock farms they once owned in the central North Island continues to grind on.

The latest bidders are now awaiting the verdict of the Overseas Investment Office (OIO) and the Government, on whether they are allowed to become the new owners.

The previous bidder, Hong Kong-based Natural Dairy, had its offer declined just before Christmas on the grounds that not all those associated with the company met the "good character" test in the overseas investment regulations.

The new bidder, private Chinese-based conglomerate Shanghai Pengxin, appears to have carefully tailored its application to meet the OIO's requirements. But it may not be that straightforward.

"One day someone will make a mini-series out of what has become a saga," Federated Farmers' dairy spokesman Lachlan McKenzie noted last month. "There have been so many false dawns with the former CraFarms that I hesitate to say this is the end."

In January, new foreign-ownership rules were introduced which allow ministers to consider whether New Zealand's economic interests are being adequately promoted and safeguarded. Potential buyers can argue mitigating factors, by demonstrating their commitment to local involvement. And in the case of large land purchases - for dairying, more than 1720ha or so - these two factors must be given "high relative importance", compared to the other factors that are also taken into account.

As lawyers specialising in foreign investment have noted, the Government appears to have given itself considerable wiggle room. While the OIO's role is to make a recommendation to the Government, the Government still has the ultimate say.

Sam Nelson, from law firm Lane Neave, says the new rules are widely seen as tougher than they were previously. "I think it just gives the power at the end of the day to the ministers. If they're presented with something that is politically unpalatable they can veto it. That's my personal view on it," he says.

Bell Gully partner David Boswell concurs. While the OIO has rarely turned down past applications, there have already been some high-profile refusals, he notes, most notably with the Arab bid for Auckland Airport.

Across the Tasman, the Australian Government recently refused to allow the Singapore Stock Exchange to buy the Australian Stock Exchange, on "national interest" grounds. But John Key faces a tricky choice so close to the election: if his Government approves the latest Crafar bid, its opponents will almost certainly leap on his previous comments that Kiwis don't want to end up as "tenants in our own country".

Even more ominously for National, other foreign buyers keen to acquire an even bigger stake in our farms are also anxiously awaiting the latest Crafar decision.

Last week, bids closed for an 83 per cent stake in Fonterra's biggest supplier, Dairy Holdings, which oversees 72 South Island farms. The stake is for sale following the receivership of Allan Hubbard's South Canterbury Finance, which owned a third of Dairy Holdings. Other shareholders in the company, including dairy magnate Alan Pye, Christchurch businessman Humphry Rolleston and three United States investors, are also taking the opportunity to sell their stakes.

Potential bidders reported to have shown an interest include Chinese dairy giant Bright Dairy, which last year invested $82 million in struggling South Island milk processor Synlait; a pastoral fund owned by Australian investment bank Macquarie Group; British private equity firm Terra Firma; US private equity firm Carlyle Group; and the Harvard Endowment Fund, which already owns a swag of forests and farmland in this country.

With roughly 14,200ha and more than 43,000 cows, Dairy Holdings is about twice as big as the Crafar empire. Together the two operations account for more than 2 per cent of our national milk output.

Given the Natural Dairy debacle, Shanghai Pengxin is being understandably cautious. It has hired veteran public relations consultant Cedric Allan as its local spokesman, and is refusing to give interviews until the Government announces its decision.

The OIO says it aims to make decisions on "high quality, straightforward applications" within 50 working days, which would mean the end of next month, but there is no statutory deadline.

In the meantime, Shanghai Pengxin has revealed it would spend more than $200 million buying and upgrading the Crafar farms in the first two years, and another $100 million on marketing in the first five years. It aims to lift the farms' production by more than 10 per cent by the end of the third year, although cynics note this would simply restore production to around the same level as before they were placed in receivership.

It has also signalled it will eventually stop supplying Fonterra, and will instead form a partnership with a local milk processor to make products such as infant formula, ice-cream and cheese for the Chinese market.

According to Cedric Allan, it has already found two local directors, and would be totally reliant on Kiwi staff in this country. "You've got a company that knows not much about dairy farming and not much about making dairy products, and frankly will be heavily reliant on New Zealand skills," he says.

What it does have, Allan argues, is the right contacts in China to help boost sales of added-value products in a rapidly-growing market.

According to its website, Shanghai Pengxin was founded in 1997 by brothers Jiang Zhaobai and Jiang Lei. But it is the older brother, Jiang Zhaobai, who appears to be its main driving force. Jiang, who is not yet 50, owns 90 per cent of the company's shares.

A civil engineer who started a construction business with just $250 in 1988, Jiang made his fortune as a property developer and is these days one of China's wealthiest men. China's best-known rich list, the Hurun Rich List, last year estimated the brothers' wealth at US$740 million ($928 million), putting them in the top 300 of China's multimillionaires.

Shanghai Pengxin has significant investments across China, mostly in commercial and residential real estate, infrastructure, mining, and sheep breeding. It has recently diversified into other markets, including agricultural operations in Bolivia, Argentina and Cambodia, and mining in the Congo. It has also dabbled in technology, with an investment in a US company, MPI Corporation, which is developing a new type of composite material for wind turbine blades.

In an email to the Business Herald, the company said it began to take an interest in New Zealand's dairy industry two years ago and "naturally we heard about the Crafar opportunity when it came up".

It has already registered a local company, Milk New Zealand, that would be the vehicle for its Crafar investment, although its parent company would be based in Hong Kong.

So far, the sole director of the New Zealand company is Auckland businessman Terry Lee.

According to Companies Office records, Lee is the director of several New Zealand companies, some of which appear to be related to rural properties in the South Island. One of these is Viewbank Dairy Ltd, which is also partly owned by Allan Hubbard and his wife.

From December 2009 to September 2010 Lee also owned a company called Kiwi Dairy, together with a Chinese investor, Xing Hong. The pair appear to have sold the company, since renamed Oravida, to local Chinese investors.

Lee has also set up a company called Nature Pure with Jiang Zhaobai, and another called Clean Green New Zealand. The names Milk New Zealand Farming and Milk New Zealand Investment have also been reserved.

According to Allan, Jiang is definitely eyeing further investments in New Zealand.

"They are in an expansionist mode," he says. "They have the capital, a willingness to invest and a belief in their expertise and contacts in China, so if they become involved in New Zealand they will look for other things to make money."

Perhaps Shanghai Pengxin will look at infrastructure projects, or other primary industries here. But American businesses who have already had some dealings with the company say it might not pay for hi-tech businesses looking for new capital to get too excited.

In 2009 and 2010, Jiang was given VIP treatment when he visited the United States on a mission to invest millions of dollars in American technology.

The visit got plenty of publicity, partly because Jiang decided to partner with Sierra Asia, a highly regarded US consultancy whose partners include two former chief US trade negotiators, and a top Chinese lawyer who helped write many of China's intellectual property laws.

Seattle Times reporter Kristi Heim says Shanghai Pengxin made a "big pitch" to the city. "For us, it was big promises made, and big hype, but they didn't end up taking an investment in any of the companies here."

Heim, who speaks Chinese, interviewed Jiang several times and says she was impressed with his openness and his savvy about politically sensitive issues such as China's attitude to intellectual property, and American fears about losing jobs to China.

Jiang told her his company employed more than 5000 people. The purpose of his visit to Seattle was to find US companies specialising in green technology, clean energy, new media, mobile telecoms and biotech, and to invest up to US$10 million in each.

He talked up the possibility of further investments, and heavily plugged a Shanghai technology park he was developing, known as the MOY Global Innovative Enterprise Center. He mentioned that the centre hoped to eventually attract US$2 billion to US$5 billion in capital to help American companies break into the Chinese market, and that its ultimate target was to invest in up to 5000 companies.

Shanghai Pengxin did indeed cast its eye over many Seattle businesses, and entered serious negotiations with two biotech companies. But in the end, no deals were done.

Heim believes a key reason was because it wanted the US companies to pay huge fees for using the MOY Center.

"That drove a lot of people away, but not everyone, and there were still at least a dozen companies I talked to who were still very interested in partnering with Jiang's firm. Why he never took an investment in any of them, I'm not sure."

One of the businesses involved confirmed to the Business Herald that the fees were a major issue. The executive, who does not want to be named because his company has since been bought by a large public company, says he did not doubt that Shanghai Pengxin was serious about its intentions. He also believed it was able to provide valuable advice about breaking into the Chinese market.

"But Mr Jiang is not necessarily a Ntechnologist or a scientist. He's really a real estate developer. He's looking to attract businesses to his technology park ... For people with stars in their eyes and their feet never touching the ground, they could easily have their expectations misaligned."

Shanghai Pengxin confirmed to the Herald that it does not yet have any tenants in the MOY Center.

It claims the economic recovery in the US means developing businesses are looking for buyers, rather than investors. However, it is still "observing" the US companies it invited to Shanghai.

"The MOY Center is not yet as successful as we expected three years ago when we planned the business model," it says. "We are changing the MOY business model to assist American companies do business in China."

The company has talked up the benefits of the centre to New Zealanders as well.

Joe Massey was chief US trade negotiator with China and Japan from 1985 to 1992. He is also a former director of the Center for International Business at Dartmouth College, and a partner in Sierra Asia.

Massey confirms that Shanghai Pengxin ended its relationship with Sierra Asia in October. Although he is baffled by its decision not to go ahead with any investments in Seattle, he insists there are no hard feelings.

"The question is I think for New Zealand, at what price does this investment come? Is it a national policy issue or is it a commercial transaction? I don't know enough of the detail to know that.

"But from my perspective, if the price is right, and the conditions are right, in a normal transaction it shouldn't matter who the investor is. If the location of the investment is in New Zealand and the operation of the investment is in New Zealand, then ultimately New Zealand has control of it. And if they're bringing more money into the economy and paying a higher price, perhaps the entire economy is benefiting."

Massey notes that, like New Zealand, many US companies are hungry for capital right now.

"They need that market - after all, it's the second-largest market in the world now. If you talk to business people here there's a lot of interest, and positive interest. The fear is more in the newspapers, and not in the business community."

His own view of China's re-emergence as an economic super-power is that the world is returning to normal.

"For five-and-a-half centuries the West has had a huge breathing space because the biggest guys in the world basically turned inward. Since 1978 they've now turned outward again and are overcoming the blunder they made for leaving the international economy to the likes of us, and to your forebears and ours out of Britain. But they are back, and they know how to make money and they intend to do it, and the world will be adapting to them just as it adapted to Britain when it was in its heyday, and to us."

According to a senior Beijing journalist, accounts filed with the Shanghai Administration for Industry and Commerce appear to show Shanghai Pengxin's registered capital is just 100 million yuan ($19.3 million). The accounts show its total assets are more than 1 billion yuan, but its reported annual sales from 2007 to 2009 are each 115,000 yuan and its annual paid taxes are less than 7000 yuan for those years.

The journalist acknowledges the figures are "ridiculous", and that there may be a rational explanation. She also notes many Chinese companies do not file reliable accounts.

Shanghai Pengxin says the figures are wrong. "Pengxin is a highly reputable company with very sound finances and an AAA credit rating," it told the Herald. On its website, the company claims to have assets of more than US$2 billion, and Allan notes it has provided full financial details to the OIO.

Massey laughs when asked about the issue. While he makes it clear he is not referring to Shanghai Pengxin specifically, he agrees the Chinese financial system is still very different than it is in the West.

The fact that many Chinese companies do not pay much tax "is a problem for the Chinese Government that they frequently make note of", he says. Massey is also unconcerned about the possible crash of the Chinese property market, where Shanghai Pengxin has so many of its assets.

"When the Chinese real estate bubble will burst, no one can say. There have been predictions that it will burst every year now for the last half a dozen years and it hasn't yet happened. But it would make sense for anyone who is a smart businessperson to diversify their investments, and Mr Jiang is certainly a smart businessman."

The company itself acknowledges there may be some "short term adjustments" in the Chinese real estate market, but says it is confident in its long-term future. It also notes it is mostly in the commercial market, not residential.

"In the last 15 years we have gone through many economic cycles and crises and we are well prepared, so our plans in NZ and China will not be affected."

While large Chinese corporates are determined to be seen as world-class in their governance, most Kiwis dealing with China are well aware of the many horror stories involving entrepreneurs. One of the most high-profile examples locally is that of Pacific Hovercraft, a Rotorua company that agreed to a joint venture with Chinese investor Terry Yang in 2008.

When the deal fell apart last year, Pacific Hovercraft founder Stephen Preest publicly accused Yang of effectively stealing his company, and his intellectual property. The dispute resulted in the resignation of Cabinet Minister Pansy Wong, whose husband helped broker the deal.

Local businesspeople with experience in China point out that is unfair to assume every Chinese businessperson is a shark. And those with extensive experience, such as former Prime Minister Jenny Shipley, maintain we can't afford to be xenophobic over the issue.

Last month Shipley claimed that growing interest from Asian business giants in spending their new-found wealth was a prime opportunity New Zealand could not afford to ignore. "Today our generation has to look to China. And for my generation and my parents' generation, if we don't get over this, we should get used to wearing jandals," she told TV One's Q+A.

Some critics have also noted that Kiwis should either put up or shut up when it comes to the sale of farms. At least that was what Natural Dairy's local PR man, Bill Ralston, seemed to be getting at in his Listener column last month when he wrote: "There are concerted public campaigns to stop the sale of productive land and resources to foreign interests, even though we lack the cash to develop them more productively ourselves."

Ralston has a point. It is believed that Landcorp bid around $130 million for the Crafar farms, compared to Shanghai Pengxin's $170 million or so. Natural Dairy is believed to have offered more than $200 million.

Landcorp CEO Chris Kelly says it is unfair to compare overseas and local bids, because overseas bidders can factor in the extra value they can get from processing the milk themselves, or with a partner.

"I can tell you that if the reported figures are true, our view is that the farms themselves were over-valued at that level," he says. "My guess is they are looking at that as a complete value chain proposition, from taking milk off the farm right through to selling milk power or infant formula in China. Now an individual farmer can't do that. They need Fonterra or someone, so it's comparing apples and pears."

Other commentators have suggested Chinese companies may be less concerned about short-term profits. However, it has also been noted that the only reason the Crafar farms and the majority stake in Dairy Holdings are up for sale is that their Kiwi owners over-extended themselves in the first place.

While Federated Farmers' official stance is similar to Shipley's, some farmers were dismayed to see the organisation's chairman, Don Nicolson, virtually begging foreign buyers to take the land off our hands during a Bloomberg TV interview late last year.

Bruce Wills, who heads the lobby group's meat and fibre division, agrees the stance is purely pragmatic. But it is also necessary, he insists, if farming is to have a future. A former banker and valuer, he notes that debt has more than doubled in the agricultural sector over the past seven years to around $47 billion.

Wills agrees the Chinese seem to be taking a long-term view of the value of New Zealand farmland, given their concerns about feeding their own population. Although Fonterra is doing its best to capitalise on the same trend, most Kiwi farmers simply can't afford to take a similar long-term view, he says.

While a few dairy farmers are indeed creaming it, most are still deeply mired in debt, says Wills. And the only way that debt will be repaid is if the milk payout stays at record levels for another few years yet, or through large injections of fresh capital.

"Where's that fresh capital going to come from? It's not coming in great speed from existing farmers because we're still a bit cagey about what we've been through, and we're not sure what's around the corner. A bit of stuff is coming out of the cities... but the big dollops are from those countries with the cash and the real drive to secure some more food assets."

As we have all learned in the wake of the global financial crisis, the bottom line is that far too many Kiwis - in the country and the cities - have borrowed far too much money and few are in any position to borrow any more.

"Sure, we've got to be careful of not losing too many of our assets offshore where we do have a competitive advantage, but we also have to recognise that we do need outside capital. We are over-indebted. We've seen what's happened to our forestry assets and our banking assets and we all look back in hindsight and say: 'What a shame we all let that go'. But basically it's our own fault. Whether we're going to learn this time, I just don't know."
By Karyn Scherer | Email Karyn